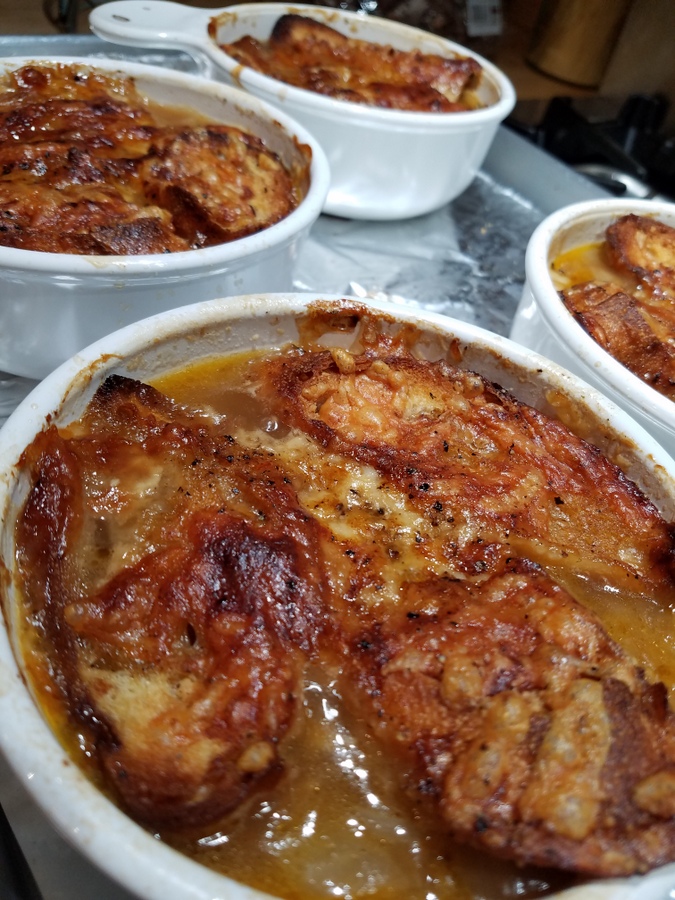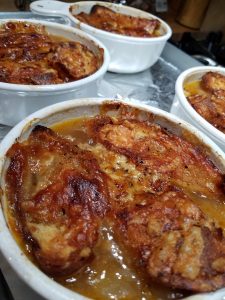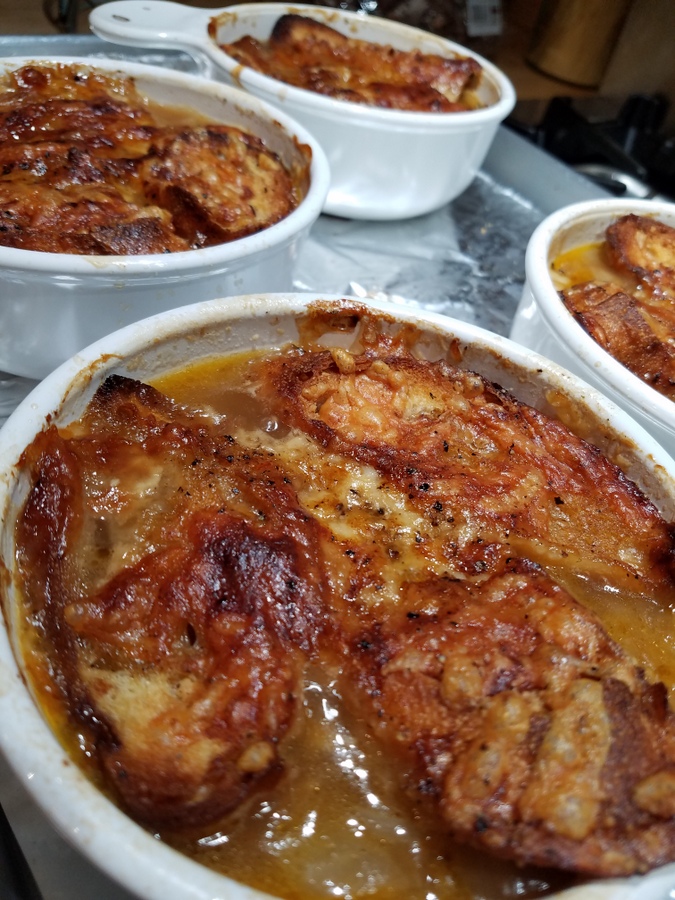 I adapted this recipe from a 1968 Hippie cookbook I found at the University bookstore in Fort Collins, Colorado. This soup has depth that manages to please all the senses. Enjoy this family favorite!
You will need four soup crocks or oven-proof bowls of some kind for this recipe.
Dee's Classic French Onion Soup au Gratin
Serves 4
What you'll need:
2 good-sized yellow or white onions, sliced
2 Tablespoons butter
2 Tablespoons good quality olive oil
4 cups rich beef broth
NOTE: If your beef soup lacks depth, add a Tablespoon or so of a good quality beef concentrate or demi-glace for depth of flavor.
½ cup good quality dry white wine, such as Sauvignon Blanc or Pinot Grigio
1/3 cup dry sherry, also good quality
2 cloves garlic, thinly sliced
1 small sprig fresh English thyme
1 cup shredded cheese, such as Gruyere and Swiss blend
Handful of good quality Romano or Parmesano Reggiano
Thinly sliced good quality French baguette, toasted on both sides
Grind of fresh black pepper
Steps:
Sauté onion in butter and olive oil on medium low heat until golden and buttery, about 20 minutes.
Mix in beef broth, beef concentrate or demi-glace if using, thymp sprig, wine and sherry, and garlic.  Heat through.  Taste for seasoning and adjust to your personal taste. You may find you like a little more wine or sherry, or that the broth needs fortifying with demi-glace for a more beefy taste. Once you have the taste you like, remove thyme sprig.
Ladle the soup into 4 ovenproof bowls, distributing the onions as evenly as possible. Don't overfill the bowls, there's more to add!
Sprinkle a little of the Romano or Parmesan cheese directly over each soup.
Now top each soup serving with slices of toasted bread. Three slices per bowl works nicely. You can add less if you like.
Sprinkle Gruyere-Swiss blend evenly over the top of each soup and sprinkle with a little more Romano or Parmesan (just a little).
Put soup bowls onto a cookie sheet (it might boil over). Bake in a 375 degree oven for about 30 to 40 minutes or until the entire top is puffy and golden.
When you are ready to eat, use the back of your spoon to push down the topping into the soup.  Be careful!  It will be hot, but Oh! So good!!