This is my take on tuna noodle casserole. Fresh lemon crumb topping and lemony-peppery pappardelle pasta makes for a delicious transformation from ho-hum to fabulous!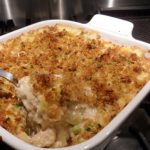 Serves 5-6
Dee's Creamy Baked Lemon Pappardelle with Tuna
What you'll need:
Eight oz. package of lemon pepper pappardelle pasta (Found at Trader Joe's)
1 small onion, coarsely chopped
2 to 3 large cloves garlic, crushed
1 stalk celery, minced
1/4 to 1/3 cup good quality dry white wine
1 Tablespoon olive oil for frying
5 Tablespoons flour
2 Tablespoons butter and 3 Tablespoons olive oil for roux
4 cups low fat milk of your choice (cow's milk, almond milk, soy milk)
½ cup mozzarella, shredded
½ cup grated Pecorino Romano and Parmesan cheeses mixed
2 cans oil packed tuna or salmon, drained and gently broken apart
*Use oil packed tuna to avoid dry clumps of tuna in your finished dish!
¾ to 1 cup petit peas, frozen
1 to 1½ cups fresh whole wheat bread crumbs
1 Tablespoon olive oil
Fresh lemon zest (from 1 lemon)
2 Tablespoons fresh parsley, coarsely chopped
Salt and plenty of freshly ground black pepper to taste
Steps:
Cook pasta in boiling water until al dente.
While pasta is cooking, sauté onion, garlic and celery in 1 Tablespoon olive oil until soft and onion is golden. Add wine and reduce. Set aside.
In a separate pan, make your white sauce by slowly heating butter and olive oil over medium low heat.  Once butter begins to froth (but before it turns color), slowly sprinkle the flour into the oil-butter mixture and whisk together.  Cook the mixture for about 2-3 minutes on low heat so that your finished sauce will not have a floury taste.
Whisk in milk slowly and continue to whisk/stir over medium low heat until sauce begins to thicken, about 5 minutes.
Combine sauce with onion mixture.  Add mozzarella and Romano-Parmesan cheeses and stir to combine.
Gently stir in peas and drained tuna.
Spray or butter a casserole dish large enough to accommodate the mixture.  Add mixture to dish.
With your hands, mix together soft breadcrumbs, parsley and the zest of 1 lemon. Add enough olive oil to moisten and sprinkle over the top.
Bake for 30 to 40 minutes at 350 until hot and bubbly.
Serve this with a simple green salad for a satisfying meal!
As a variation, you can also use  fresh flaked or canned salmon.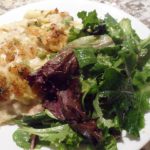 ENJOY!