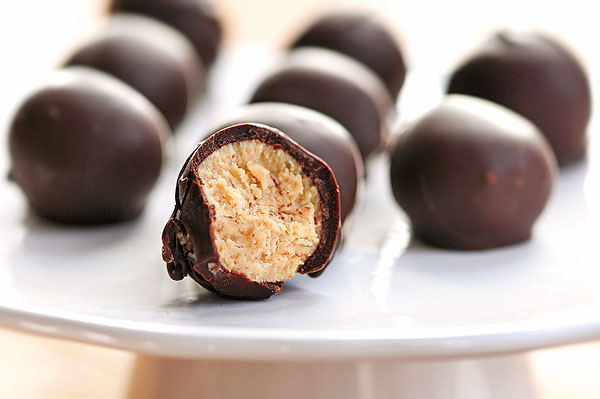 Dee's Chocolate Peanut Butter Drops
Makes about 100 drops
Melt-in-your-mouth deliciousness!
Once you try these, you will wonder what you ever loved about Reese's!
What you'll need:
18 oz. package semi-sweet chocolate pieces OR equivalent amount of your favorite chocolate
1 cup butter, softened
2 cups creamy peanut butter
1 Tablespoon vanilla extract
4-5 cups powdered sugar
1/4 cup chopped or grated paraffin
Pecan halves (optional)
Steps:
Mix butter, peanut butter and vanilla together with hand mixer or by hand. Blend in sugar.
Form mixture into small balls (about 1 teaspoon dough per ball).
Melt chocolate and paraffin together in the microwave, stirring in 1 minute increments until completely melted and combined.
Dip balls into chocolate mixture one at a time and place on waxed paper. Top each piece with a pecan half, if desired.  If chocolate begins to harden during the dipping process, just return to the microwave and re-melt.
Top with some flake sea salt, a pecan half, chopped nuts such as pistachios,  or just leave plain. Great any way!
Refrigerate until hardened.