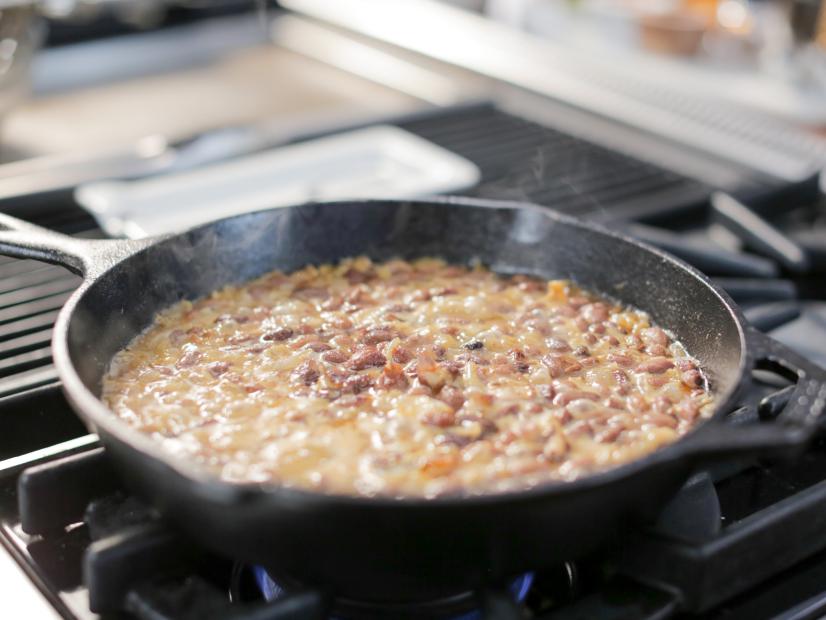 Dee's Easy Mexican Style Pinto Beans
Serves 4-6
What you'll need:
1 32 oz. can pinto beans
1 large onion, chopped
1 large clove garlic, finely minced
½ Jalapeno or other mild chili, halved (optional)
Salt to taste
Olive oil for frying
For serving, all optional:  
Queso fresco (Farmer's cheese) or Feta cheese
Sour Cream
Salsa of choice
Cilantro leaves
Chopped chilies of choice
Corn tortilla chips
Steps:
Peel and coarsely chop the onion.
In a preheated large skillet, add just enough oil to coat pan. Let the oil get hot (but not smoking) and add onions.
Sauté onions over medium-high heat moving them about frequently until they are golden brown. When they reach this stage, the onions release their sugars and will give the beans a natural sweetness.
Add the garlic, give it one stir and add beans, including all the liquid.
Let the beans heat through until they are bubbly. Add the chili if using.
Using a potato masher, mash the beans leaving a few of them whole. Simmer slowly for about 10 minutes or until beans have thickened somewhat. Remove the chili.
Sprinkle beans with Mexican queso fresco or dry Farmer's cheese. Feta cheese works too! They can also be served with the accompaniments listed above.
Serve hot. Yum.