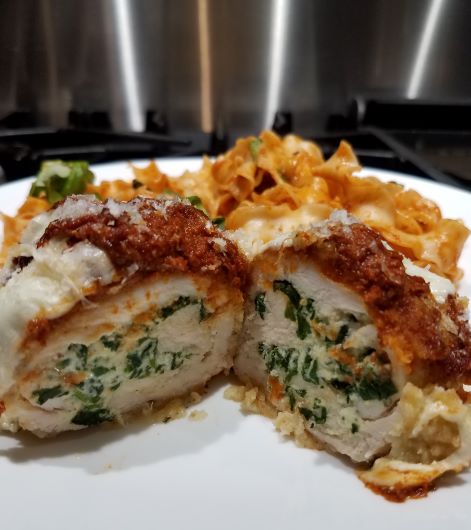 Chicken Rollatini a la Dee
What you'll need:
8 Chicken cutlets or 4 chicken breasts, sliced horizontally
Re-sealable food storage bag
Mallet or small heavy pan for pounding chicken
Small amount white wine, chicken broth or water
Filling
1 cup ricotta cheese, full fat (Polly-O or homemade preferred)
½  cup Parmesan or Grana Padana finely grated cheese
¼ teaspoon ground nutmeg
1 large egg, beaten
½ to 2/3 cup fresh, cooked spinach, chopped or frozen chopped and squeezed dry
Coating
1 cup panko
½ cup Parmesan cheese, grated
1 teaspoon dried oregano
1 teaspoon dried basil
1 teaspoon garlic granules or powder
½  teaspoon salt and ½  teaspoon white pepper
2 eggs, beaten with 2 Tablespoons water
Topping
½ cup homemade or quality jarred marinara sauce plus 1 cup additional for serving on the side
8 fresh Mozzarella slices
Sliced fresh basil leaves (optional)
Steps:
Preheat oven to 375 degrees. Spray or coat an 8×11 inch baking dish with olive oil.
Place chicken breast cutlets into a baggie and add about 1 teaspoon liquid of your choice, either white wine, chicken broth or water. Seal bag and pound lightly to thin and tenderize the chicken breast. Remove and set aside on a plate; continue to complete all breasts so that they are relatively the same thickness. Set aside.
Combine filling ingredients and set aside. Be certain to squeeze most of the moisture out of the spinach to prevent oozing of liquid.
Combine panko and grated Parmesan in one wide, shallow bowl. Season with dried herbs and garlic powder, salt and pepper and mix thoroughly.
In another wide, shallow bowl, beat two eggs and add 2 Tablespoons water to thin.
Lay chicken cutlets down on a clean work surface. Dollop 2 Tablespoons filling on each cutlet. Roll up loosely, bringing in the sides as you roll to keep filling in.
Gently dip the rolled breast into the egg wash, coating it completely, then gently roll in panko mixture to coat all over. Place in prepared dish and repeat until all chicken breasts have been rolled.
Drizzle olive oil over top to help brown the cutlets. Bake in 375 degree oven for 25 minutes.
Remove from oven and add about 1 Tablespoon of marinara sauce to top of each chicken cutlet. Place one slice of mozzarella on each breast. Return to the oven and continue to bake until the mozzarella is melted.
Serve with additional sauce on the side, julienne of basil leaves and grated cheese.