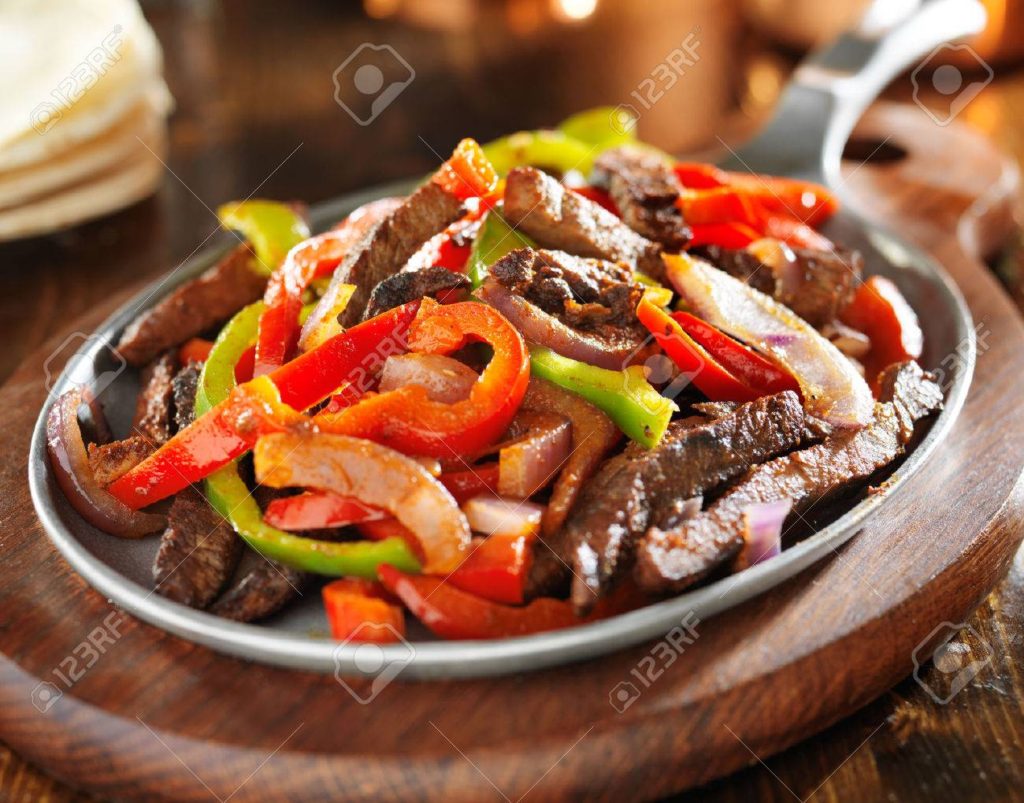 Dee's Original Fajitas
with Espresso-Cocoa Rub
Serves 6
This unique and full flavored rub will work equally well on beef or chicken. If you are vegan, try the rub on cubes or slices of tofu that has been drained and is very dry.
Fajitas originated in Northeastern Mexico and Northern Texas. Ranch workers were often paid in meat and were given the cheaper, less tender cuts of beef. So, as is true of so many incredible Mexican dishes, something amazingly delicious was invented from meager beginnings! You can use whatever cut of beef you want but most common are flap meat, flat iron, skirt steak or flank steak. Of course you can use more expensive cuts, but authentically, the cheaper and more flavorful cuts were used. In this recipe, I make the fajitas using a dry rub with espresso granules (you can use instant coffee as well)  and cocoa, reminiscent of the flavors of Mole Poblano. The enzymes in the espresso help tenderize the meat without chemically cooking it as citrus marinades can do. If using chicken, use either thigh meat or breast, but cook separately as breast meat will take only a couple of minutes to cook.
Try this and enjoy!
What you'll need:
1 to 1 1/2 pounds beef – skirt, flank, flap or flat iron, sliced across the grain
For beef rub:
1 Tablespoon Espresso granules or powder
1 teaspoon unsweetened cocoa powder
2 Tablespoons dark brown sugar
2 Tablespoons ground Ancho chili (powder or ground)
¼ teaspoon or to taste, Cayenne pepper
1 teaspoon granulated garlic or powder
1 heaping teaspoon salt
For the veggies:
1 large or 2 smaller onions, quartered and layers separated
1 or 2 Poblano or other mild chilies, cut into large chunks
3 sweet peppers–combine red, green, yellow or orange (for color) cut into chunks
juice of 1 lemon, about 1/4 cup
juice of 1 lime
2 Tablespoons olive oil
2 cloves garlic, crushed
½ teaspoon salt and freshly ground pepper
Oil for frying
For serving, optional:
Tortillas, either corn or flour
Fresh limes, quartered
Sour Cream or Mexican Crema
Avocados
Salsa of choice
Steps:
Mix dry rub ingredients together.
Rinse and dry the meat. Massage rub into the meat and leave at room temperature for about an hour.
Cut veggies into chunks and pour citrus juices, crushed garlic, olive oil, salt and pepper over the mixture. Mix together, coating all the veggies with the marinade. Set aside.
When ready to cook, slice the meat on the diagonal and against the grain into ½ inch slices.
Heat oil (peanut or canola can take high temperatures; olive oil cannot) in a heavy cast iron skillet or fajita pan until hot. Add the veggies to the pan and fry on medium high heat for about 5-6 minutes. Allow the veggies to form a slight char before turning over. Don't overcook! Set aside.
Turn up the heat to high. Add a small amount of oil to the pan. Once the pan is very hot, add meat and cook until desired doneness, again leaving them to char on the outside for a couple of minutes before turning. If using the suggested cuts of meat, less cooking will render more tender meat, so serving medium rare to medium is preferred.
Once meat is cooked to desired doneness, add the cooked veggies to the pan and mix into the meat.
Serve, sizzling hot right in the skillet with quarters of fresh lime for squeezing over the fajitas.
As accompaniments, serve with fragrant warm tortillas, salsa of your choice, avocado slices and Dee's Easy Mexican Style Pinto Beans.