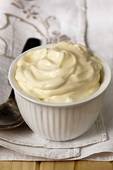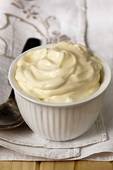 DEE'S LEMON CREAM
This quick little recipe is easily whipped up and will impress you with its delicious simplicity!
Serve as your dip for grilled or steamed artichokes in place of butter or mayonnaise.
What You'll Need:
1 cup non-fat or low-fat Greek yogurt
3 to 4 Tablespoons Olive Oil Mayonnaise
Sprinkle of garlic salt or 1 fresh garlic clove, pressed
Zest of 1 lemon
About 2 Tablespoons fresh lemon juice
2 Tablespoons rinsed capers, chopped or whole
Steps:
Whisk together the yogurt and mayonnaise. Add more or less yogurt/mayonnaise to your liking.
Grate the zest of 1 small or ½ large lemon into the yogurt mixture. Add lemon juice and garlic salt. Whisk. Taste and adjust lemon or mayo to taste.
Stir in rinsed capers.