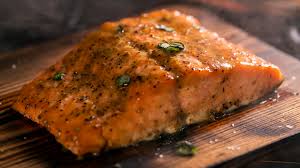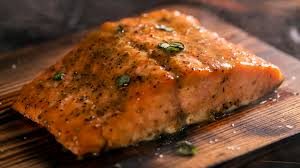 Dee's Cedar Plank Salmon
What you'll need:
One UNTREATED cedar plank that has been soaked in water for 2 hours
2-3 pound whole salmon fillet with pin bones removed or 1½ to 2 inch thick individual fillets
Sauce for fish:
1/2 cup dark brown sugar, packed
2 to 3 Tablespoons pure maple syrup
2 cloves garlic, crushed
2 teaspoons lemon zest
2 Tablespoons lemon juice
1 Tablespoon soy sauce or tamari
Salt and freshly ground pepper
2 Tablespoons good quality brandy
Steps:
Blend the sauce ingredients listed above. Taste and adjust to your liking.
Spread sauce all over both sides of salmon and let it set for 30 minutes.
Place salmon, skin side down on the damp cedar plank
Place plank on grill over medium to medium high heat for 12 to 15 minutes, according to the thickness of the salmon.  For medium, cook for 12 minutes. For more well done, cook for 15 minutes.
Close the lid and let the salmon smoke. Check to be sure it's not on fire–if the plank catches fire, just a quick spray with a water bottle will douse the flame. You may need to adjust your heat if using gas or close down your vents if using charcoal.
DON'T overcook the fish! It will be tender and juicy. The fish will continue to cook for a few minutes from the heat of the plank.
Don't remove the fish from the cedar plank. Serve on the plank that has been placed on a cutting board or platter.  Let guests serve themselves by sliding spatula between fish and skin.
This is great with black bean mango salsa!