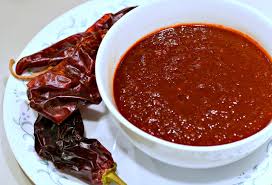 Dee's Smoky Salsa
Makes approximately 3 cups
Made with a combination of dried and fresh chilies, this salsa can be made as spicy or mild as you like. It has a satisfying  smokey flavor with a hint of citrus and can be used as a dip with Fresh Corn Tortilla Chips or to top your favorite taco or tostada.
What you'll need:
4 dried Ancho chile peppers
2 dried guajillo chiles
2 dried pasilla chiles
1 large onion, quartered
4 cloves garlic
2 fresh jalapeno chiles, halved lengthwise
1-2 fresh Serrano chiles, halved lengthwise (optional – for added heat)
1 cup sweet cherry tomatoes
3 Tablespoons fresh lemon oregano or 1 Tablespoon dried Mexican oregano
1 Tablespoon salt
1 teaspoon sugar
Juice of 1 lime
Juice of 1 small or ½ large juicy orange
2 Tablespoons olive oil
¼ cup chopped cilantro or to taste
½ to 1 cup dried chile soaking water
Steps:
Use kitchen shears to remove the stems and seeds from dried chile pods.
Toast the chilies in a dry medium saucepan over medium heat until they become fragrant, turning occasionally, about 5 minutes. Add enough water to cover the chiles.  Remove from the heat and let stand 15 minutes.
While chiles are resting, grill or broil the quartered onion, garlic cloves, tomatoes and fresh cliles until slightly charred.  Let cool.
Transfer the chiles and 1 cup of the soaking liquid to a blender and puree until smooth. Save remaining soaking water for possible use later.
Add grilled veggies and remainder of ingredients to blender and puree until desired consistency is achieved. You may like it left a little chunky or pureed.
Taste and adjust seasonings to suit your taste. Allow salsa to set for about 30 minutes to blend flavors.  It will keep in a jar in the refrigerator for several weeks.
NOTE:  If you have a high powered blender such as a Vitamix, you will be able to add all the ingredients at once and blend until desired consistency is reached.