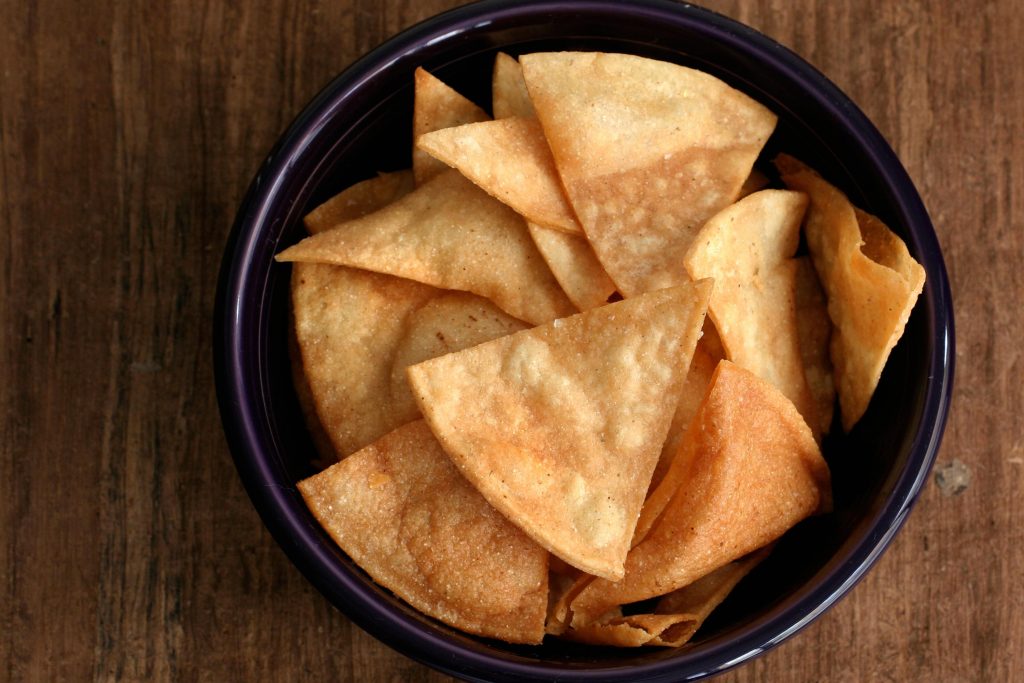 Fresh Corn Tortilla Chips
Make your own tortilla chips two ways – fry them or bake them.
You will just love these toasty little wedges of goodness!  Great with homemade Pico de Gallo or Dee's Smoky Salsa
What you'll need:
Fresh Corn Tortillas
Canola oil
Salt
Large paper grocery sack
Paper towels
Slotted spoon
Steps:
Cut fresh tortillas into wedges (like a pie into fourths or eights per tortilla) and set aside.
 Fill a large cast-iron or other heavy frying pan with high sides to about 1/3 full with the oil. Heat on high heat until 350 degrees–not smoking, but hot enough to make one tortilla wedge sizzle immediately.  NOTE: ONCE THIS PROCESS IS BEGUN, DO NOT LEAVE THE STOVE FOR ANY REASON. FIRES CAN START QUICKLY WITH HOT SIZZLING OIL!!!
Place your paper bag near you and line the bottom with a paper towel. Have the salt and more paper towels at hand.
When the oil has reached the proper temperature, add enough tortilla wedges to cover the top of the oil–don't add too many at a time or your chips will not be crisp and evenly cooked.
Fry the chips until golden brown, about 2 minutes more or less. Move them about with a large slotted spoon. When chips are done, remove from oil with a slotted spoon, drain quickly and place in the paper bag.
Lightly salt the chips while they are hot so that the salt will stick to the chips.
Continue the process until all the chips are fried and salted. Add paper towels between layers to drain oil.
FOR DELICIOUS CHIPS WITH LOTS LESS FAT, BAKE 'EM!
Cut the tortillas as above.
Lay the chips out on a parchment-lined large cookie sheet in a single layer.
Drizzle lightly with olive or canola oil. You can spray them with olive oil spray also.
Bake in a 400 degree oven on the middle rack until crisp and golden, about 12 to 15 minutes. Keep an eye them! They can become too brown quickly and lose their nutty flavor.
Sprinkle with salt as soon as you take them out of the oven.  Then remove them from the pan to cool.  Don't leave them on the cooking sheet as they will continue to cook.