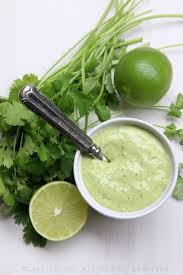 Try this unique recipe with those sweet and succulent scallops.
Serves 4
What you'll need:
1 Tablespoon olive oil
1 cup finely chopped onion
2 pounds sea scallops
½ cup chopped fresh chives
2 Tablespoons chopped fresh parsley
2 Tablespoons all purpose flour
1 Tablespoon minced peeled fresh ginger
1 Tablespoon fresh lime juice
1 large egg, beaten to blend
2 teaspoons salt
1 teaspoon grated lime peel
¾ teaspoon ground black pepper
2 Tablespoons peanut oil
whole fresh chives
Fresh cilantro sprigs
Cilantro Lime Mayonnaise:
1 cup (packed) fresh cilantro leaves
3 Tablespoons fresh lime juice
1 garlic clove, peeled
1 teaspoon Dijon mustard
¼ teaspoon hot pepper sauce
¾ cup mayonnaise
Steps:
Heat oil in a medium nonstick skillet over medium heat.  Add onion and sauté until tender, about 8 minutes.  Cool.
Place scallops in a food processor.  Using on/off turns, coarsely chop scallops. Take care not to overprocess. Transfer scallops to a large bowl.
Stir in cooked onion, chopped chives, parsley, flour, ginger, lime juice, egg, salt, lime peel and pepper.
Form scallop mixture into 8, 0ne-inch thick patties, each about 3 to 3½ inches in diameter.  Place scallop cakes on a baking sheet.  Cover and chill for 1 hour. (Can be prepared up to 6 hours ahead).
Preheat oven to 450 degrees.
Heat peanut oil in large nonstick skillet over medium-high heat.  Working in batches, add scallop cakes to skillet and cook until browned, about 2 minutes per side.
Transfer cakes to baking sheet. Place in oven and bake until cooked through about 7 minutes.
When ready to serve, plate 2 scallop patties on each plate. Serve with Cilantro-Lime Mayonnaise.
Cilantro Lime Mayo
To make mayonnaise, blend first 5 ingredients in a processor until cilantro is finely chopped. Add mayonnaise and process just to blend.  Season with salt and pepper.
Serve scallop cakes by spooning a small amount of the cilantro-lime mayonnaise onto the serving plate and attractively setting the cakes along side.  Scatter 2 or three pieces of fresh chives, about 3 inches long and serve along with simple buttered new potatoes with chives and parsley.  Add a lime wedge, and you have a wonderful meal!