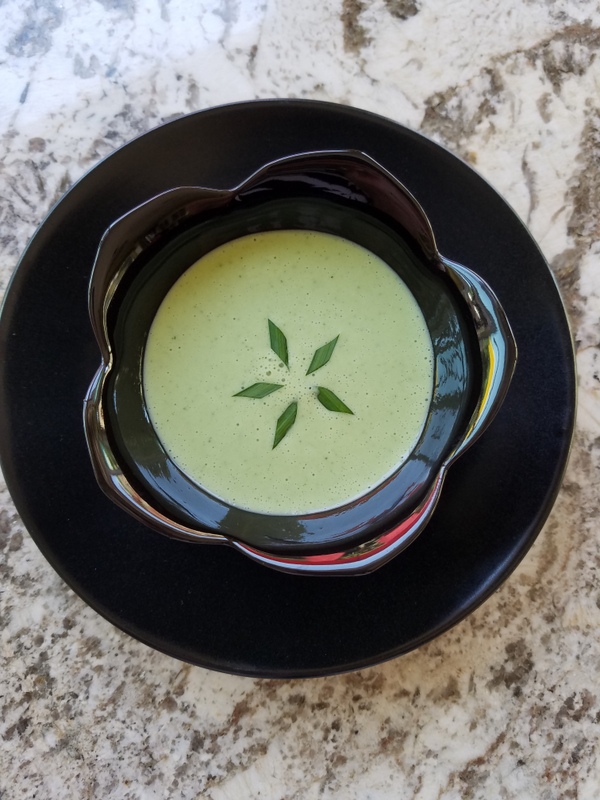 Chilled Cucumber and Chive Soup
An original Dee thing
Serves 6 as an appetizer soup
What you'll need:
2 medium cucumbers, peeled, seeded and diced (about 2 cups)
1 bunch chives, chopped  (about 1/2 cup)
1/4 cup chopped parsley
2 green onions, including tops, thinly sliced
1 large clove finely minced garlic
2 – 3 cups chilled buttermilk
1/2 cup sour cream
Salt and freshly ground pepper to taste
*Save some of the green onion tops and chives for serving soup
Steps:
In a blender, puree cucumbers, chives, garlic, green onions and parsley with 1 cup of the buttermilk and the sour cream.
Pour into a bowl or pitcher and add remaining buttermilk to your liking.  Adjust seasonings.  Chill for at least 4 hours.
Stir again before serving and top with a few sprinkles of sliced chives or green onion tops.
This soup is best served iced cold!
For an elegant presentation, serve in small bowls which are set into a bed of cracked ice.