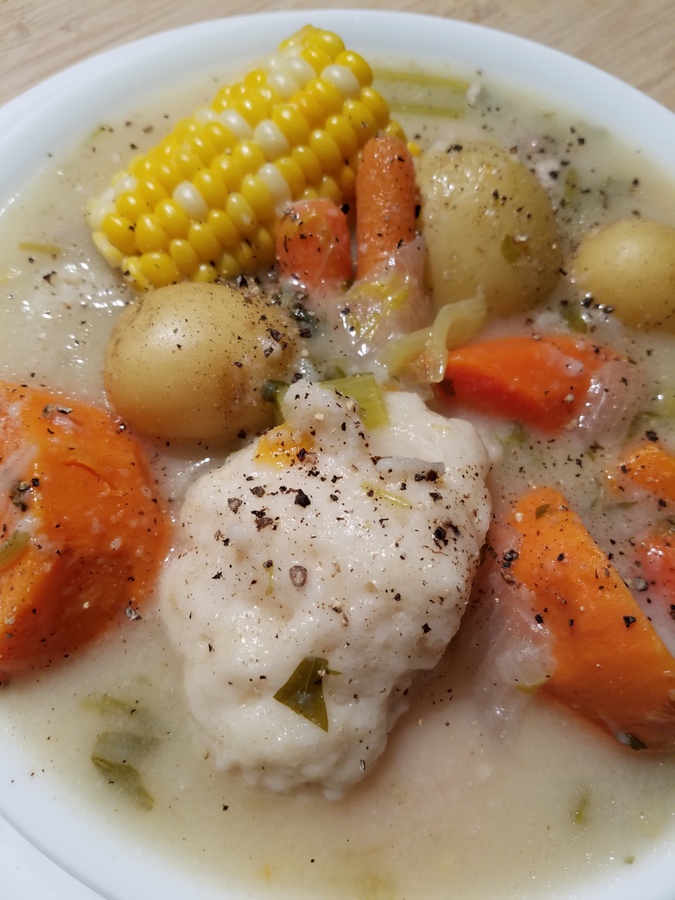 Dee's Chicken and Dumplings
Good Old-fashioned Comfort Food
Serves 6
 While it looks like a time-consuming recipe, in reality it takes about 1 hour from start to finish once your veggies are prepped.  The end result is worth the effort!
What you'll need:
For poaching chicken
1 chicken, whole or cut into pieces
Enough cold water to cover chicken
2 green onions (Spring onions/scallions)
2 whole cloves garlic
1 Tablespoon whole black peppercorns
Salt
For soup
4 carrots, cut into 2 inch pieces
1 large or 2 small sweet potatoes, peeled and cut into 2 inch pieces
8 whole unpeeled small potatoes of your choice (baby Yukon, Dutch white creamer potatoes)
1 large sweet onion, cut into 1 inch chunks or frozen whole baby onions
2 stalks fresh celery with leaves, cut on diagonal into 1 inch slices
1 small sprig fresh thyme (optional, if available), left whole
1 cup cut green beans or peas
1 Tablespoon good quality chicken bouillon paste, such as "Better than Bouillon Chicken Base"
Freshly chopped parsley
NOTE:  corn on the cob is a nice addition if in season. Just cut into about 3 pieces and add to soup with other veggies.
For dumplings
2 cups Bisquick Baking Mix
1 cup buttermilk
Steps:
Begin by prepping all of the veggies you want to use for the soup. Use whatever you like from the list above or make up your own!  With pre-prep, this heart-warming dish can be completed in about an hour!
Now you are ready to poach your chicken. Poaching chicken makes it juicy, tender and does not boil away all of the flavor. This is easily done by putting the chicken into a large pot and covering it with cold water. Fill the pot so that the water level is about 2 inches above the chicken. Add 2 whole green onions, a few whole black peppercorns and 2 cloves of garlic, and about 2 teaspoons of salt to the water.
Bring the chicken to a full boil (important to start with cold water), then turn down the heat slightly and let it slow boil for 10 minutes with the lid off.
After 10 minutes, turn the heat off and quickly cover the pot with a tight-fitting lid. Leave the chicken in the liquid for at least 1 hour or up to 2 hours.
When ready to make the soup for the chicken and dumplings, carefully remove the chicken from the water – the water becomes your soup base – and set the chicken aside to cool.  Once cooled somewhat, cover and refrigerate. Bring the soup base back to a gently boil.
Mix 2 cups of Bisquick with 1 cup buttermilk. Stir with a fork just to combine. Dough will be sticky. Set it aside while you assemble the soup.
Add the bouillon (you may want more or less) to the soup base and taste for seasonings. I have found that 1 Tablespoon of good quality bouillon is just right. Adjust to your personal taste.
Add all the prepared veggies (except peas if using) and thyme sprig.
Once the water begins to boil, turn the heat down to a slow simmer.
It is important that you do not add your dumpling dough to boiling liquid or the cooked dumplings will fall apart as they cook. Note that the mixed dough has risen just a little after setting for about 5 minutes.
Scoop up 1 Tablespoon of dough and use your finger to gently scoop it off the spoon into the simmering broth.  Continue scooping by the tablespoonful until all the dough is used. Don't place dumplings on top of each other.
Cook at a slow simmer for 10 minutes uncovered.
After 10 minutes, cover pot with a tight-fitting lid and cook for another 10 minutes at a slow simmer.
When dumplings are done, your veggies should also be done. Remove the lid and let the soup set for about 5 minutes before disturbing the dumplings. They will be fluffy and soft.
Meanwhile, prepare individual bowls for serving by carving or pulling the tender meat from your cooked chicken and place it into the bottom of the serving bowl.
Scoop out 2 dumplings per person and place in the bowl; then ladle the soup and veggies over the chicken and serve sprinkled with freshly chopped parsley and a grinding of fresh black pepper.