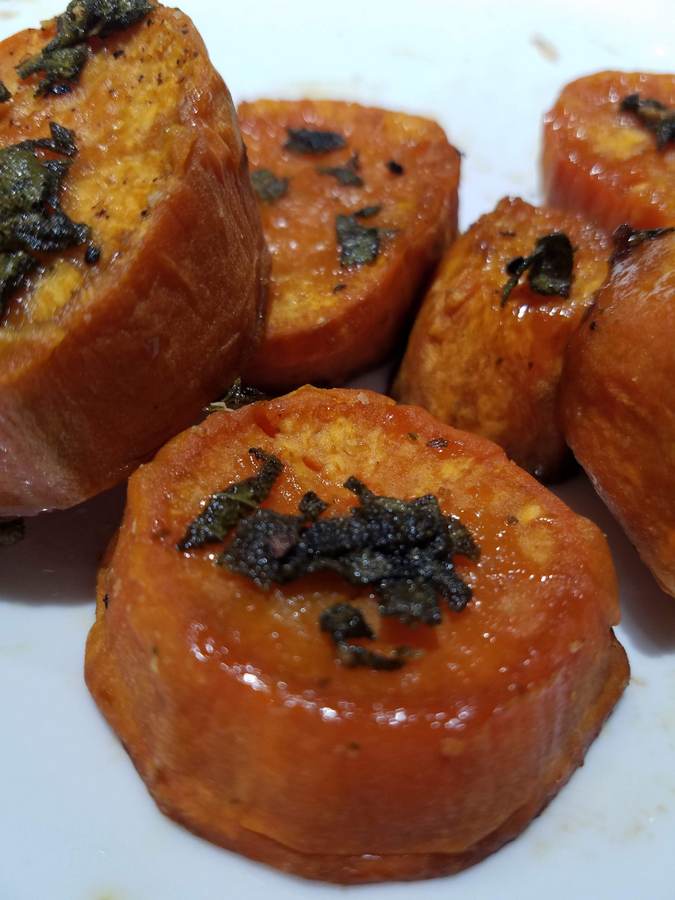 Serves 6
Quick and easy holiday side that pairs well with turkey, ham, pork, beef or even fish! If you want to keep you meal vegetarian or vegan, try this paired with Sweet Basil Haricots Verts and your favorite veggie protein source. Enjoy!
What you'll need:
2 pounds sweet potatoes or yams peeled, cut into 2 inch medallions
1 Tablespoons olive oil
2 Tablespoons butter or substitute, melted
2 cloves crushed or finely minced garlic
2 Tablespoons pure maple syrup plus more for drizzling
¼ cup fresh sage leaves, coarsely chopped
Freshly ground pepper and salt to taste
Steps:
Preheat oven to 375.
In a small bowl, whisk together olive oil, melted butter, garlic, 2 Tablespoons maple syrup, 1 teaspoon sea salt and chopped sage leaves. Set aside.
Line a rimmed baking sheet with aluminum foil. Drizzle the foil with a little olive oil or cooking spray to prevent sticking.
Lay out the medallions in a single layer so that sides do not touch.
Drizzle the olive oil – maple syrup mixture over the potatoes, making sure that a few of the sage leaves top each medallion.
Roast until tender, about 30 minutes, then remove from the oven.  Turn your oven to broil.
Drizzle each medallion with a little more maple syrup and a grind of black pepper.
Place the medallions under the broiler until they are nicely glazed. This won't take long and they may burn easily, so don't leave them alone!
When the medallions are done, give one a taste and if needed, add a wisp of finishing salt over the tops before serving.
ENJOY!