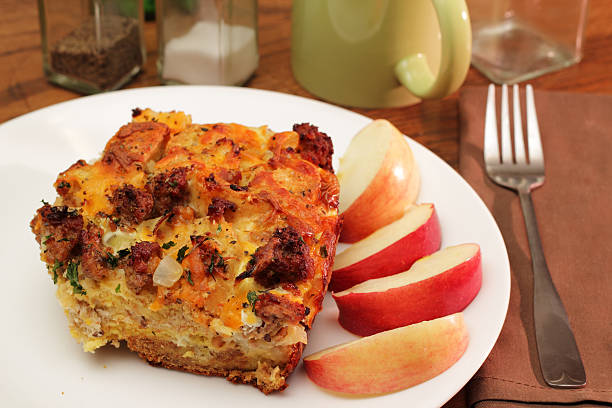 This is an old fashioned bread pudding with a Dee twist.
This recipe will require an overnight sleep over in the refrigerator so that when you are ready to serve it, the work is done!
Glazed Onion and Sausage Breakfast Bread Pudding
With Apples and Sherry
Serves 6
What You'll Need:
About 6 cups one-inch cubed or torn crusty bread (not sour dough)
5 large eggs
2 cups milk (soy, almond or regular milk OK)
½ cup heavy cream
¼ cup dry sherry
1 Tablespoon sugar
Generous pinch of salt (about 1 to 1 ½ teaspoons)
Generous pinch of white pepper
Olive oil for frying
1 large sweet onion (Vidalia or other) coarsely chopped
½ pound spicy turkey or pork bulk sausage, such as Jimmy Dean
1 apple, grated
1½ cups Swiss-Gruyere blend grated cheese (Trader Joes has a good one)
1 Tablespoon fresh lemon thyme leaves, minced
Steps:
Preheat oven to 350. Butter or spray a 13 x 9 x 2 inch glass baking dish.
Cube or tear a loaf of crusty bread and place in the preheated oven for about 8 minutes or until just golden and dry. Set aside in a large mixing bowl to cool.
Whisk eggs until frothy and blend in milk, cream and sherry. Add salt, pepper and sugar and mix to combine. Set aside.
In a frying pan, sauté the onion and a pinch of salt in olive oil until golden.
Add the sausage and break apart with a spoon. Continue cooking on low heat until the sausage is no longer pink. Do not overcook as it will completely cook in the oven. If sausage renders oil, drain it off. Let it cool somewhat.
Add the grated cheese, grated apple and thyme to the cooled bread cubes and mix together with your hands. Add turkey-onion mixture and mix together to blend.
Add bread mixture to your prepared glass baking dish. Pour milk, egg and sherry mixture over bread and press down as necessary to coat all pieces of bread. If the bread is not completely moistened by the milk mixture, pour additional milk or cream over the top to moisten completely, but not saturate the mixture.
Cover and refrigerate overnight.
About 1 hour before baking, remove the pudding from the refrigerator. Pre-heat your oven to 350.
Bake uncovered in a 350 degree oven until the pudding is set and firm, about 1 hour and 15 minutes. A nice light golden crust will form on the top. If more time is needed to bake, add time in 10 minute increments and test again.
 To test for doneness, insert a knife or small spatula in the center of the pudding. If the knife comes out clean (no liquid), it is done. The pudding should also shrink slightly from the sides of the dish.
 Serve with fruit salad, chutney, apple compote or just plain!
It's just delicious!