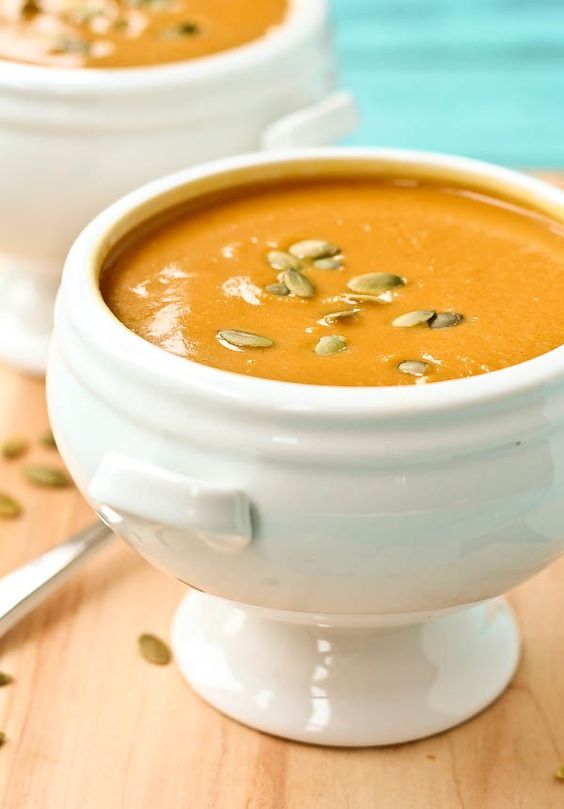 Slightly spicy, heartwarming and nutritious creamy Vegan soup which can be topped with toasted pumpkin seeds, Roasted Coconut Chips, or homemade crispy buttery croutons.
Velvety Acorn Squash Soup with Leeks, Ginger and Coconut
Serves 8
What you'll need:
4 pounds acorn squash (4 medium)
*Note: you can also use cubed butternut squash
2 Tablespoons canola or good quality olive oil
3 large leeks, white parts only, rinsed thoroughly and sliced
¼ cup peeled minced fresh ginger
7 cups organic low vegetable broth (non-vegan version use chicken broth)
½ cup freshly squeezed orange juice
2 teaspoons grated orange zest
1 ½ cups peeled, cored and chopped ripe pears (can also used jarred – prefer organic)
¼ cup light organic coconut milk
Kosher flake or sea salt and white pepper to taste
Steps:
If using whole squash, preheat oven to 375 degrees. Line rimed baking sheet with aluminum foil.
Halve the squash and remove the seeds. Place squash cut-side down on prepared baking sheet. Pour 1/3 cup water around squash and bake 45 minutes, until soft.
Cool squash slightly; peel and mash.
QUICK TIP:  If you would rather, just purchase already peeled and diced squash (available at Trader Joe's) and microwave with a little water until tender.  Then continue with the recipe. There will be some taste difference. The baked squash will give the soup a deeper, more complex flavor, but the microwave will save you loads of time!
Heat oil over medium heat in large heavy-bottomed pot. Cook leeks with a large pinch of salt for about 8 minutes until softened.
Add ginger and stir for 2 minutes. Add broth, orange juice and zest and bring to the boil.Reduce heat and simmer 10 minutes. Add squash and simmer 10 minutes more.
Remove the mixture from heat; add pears and coconut milk.
Puree in batches in the blender or Vitamix.  If using a hand blender, just puree it in the pot!
If soup is too thick, add more coconut milk until it is the consistency you like. Add salt and white pepper to taste.
Keep warm until serving time. You can top the soup with toasted pumpkin seeds, Roasted Coconut Chips (available at Trader Joe's)  or crispy buttery croutons.
Serve with fresh warm bread and lightly dressed green salad.  Yum. Warms the cockles!