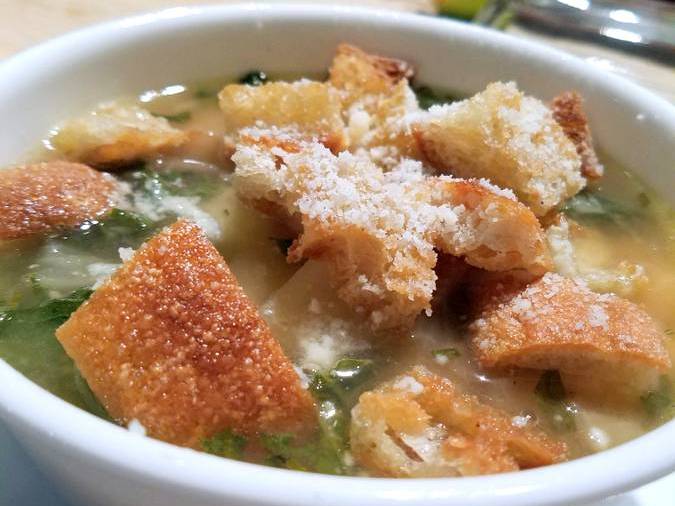 This is a take on Pasta e Fagioli for people like me who aren't fans of pasta in soup~I can hear my Italian grandmother praying for me as I write this!
This is easy to prepare and is a wonderful soup whether you are making it for yourself or a crowd.
Enjoy!
Dee's Italian Potato and Bean Soup 
With Crispy Parmesan Croutons
Serves 6
What you'll need:
For croutons
2 Tablespoons olive oil
4 cups cubed dense Italian bread
¼ cup grated Parmesan
Salt and Black Pepper
For Soup
2 Tablespoons olive oil
2 cups diced onions
1 to 2 Tablespoons minced fresh Rosemary (to taste)
1 Tablespoon minced fresh garlic
½ cup dry white wine
6 cups low sodium chicken stock
1 pound cubed white potatoes (Russet, Yukon, etc.)
2 cans Cannellini beans AND liquid
2-3 cups fresh greens of your choice, such as Swiss chard, spinach, kale or arugula
Steps:
To make croutons-
Mix Parmesan and black pepper together in a small bowl and set aside.
Pour oil into a non-stick skillet over medium-high heat. Add cubes of bread and cook until toasted, moving around in the pan and turning as needed to maintain an even golden brown.
Remove to paper towel to drain but while still hot, toss toasted bread with Parmesan-black pepper mixture. Set aside while soup is cooking.
To make soup-
Heat oil in a soup pot and add onions. Cook the onions until translucent. Add rosemary and garlic to the pot and cook about 1 minute.
Deglaze the pot with wine and cook until evaporated, about 3 minutes.
Stir in broth and potatoes. Bring just to the boil and reduce heat to medium. Simmer the potatoes until almost tender, about 10 minutes.
Gently stir in beans plus the liquid in the cans and warm through completely on low heat.
Just before ready to serve, add greens and stir into soup.
Plate soup and top with crispy croutons.
Dee-lish-us