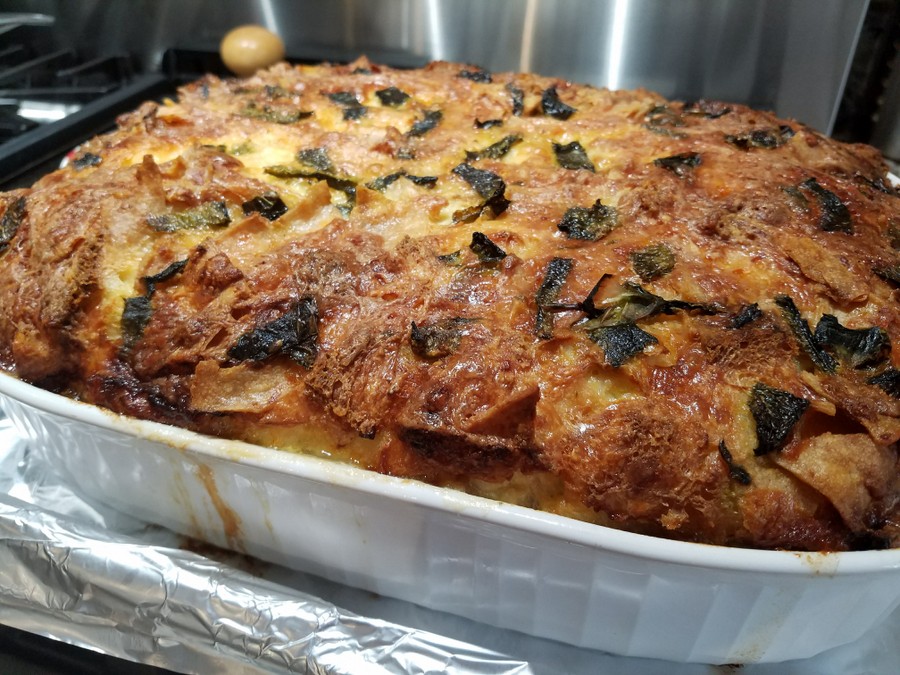 Leek, Sage and Gruyere Strata
Serves 6
A strata is a casserole made from bread which has been softened by soaking in liquid and egg and baked. The quality of your bread is important! Look for a heavier loaf with a crusty top, such as a boule for this recipe.  The combination of cheeses is up to you, but this is my favorite!
What You'll Need:
1 Tablespoon clarified butter or olive oil
½ cup finely chopped shallots
4 leeks, rinsed thoroughly and coarsely chopped
2 garlic cloves, minced
¼ cup coarsely chopped fresh sage leaves
3 cups whole milk
1 cup heavy cream
Lots of white ground pepper, about 1 teaspoon total
1 teaspoon salt or to taste
6 large eggs
1 cup good quality grated Pecorino Romano or Parmesan cheese
1 cup grated Gruyere cheese or Gruyere-Swiss blend
8 oz. crumbled Chevre' goat cheese
1 pound (about 5 cups) ½ inch cubed firm French bread
Cooking spray or butter to coat baking dish
Steps:
Place the cubed bread on a large baking or cookie sheet and place into a 400 degree oven for about 10 minutes.  You want the bread to be toasty. Let cool.
Heat a large skillet over medium heat and add clarified butter. Swirl it around to coat the pan.
Add chopped leak and shallots and cook for a couple of minutes, stirring frequently until the leek softens. Now add the garlic and sage and cook, stirring occasionally, until the leeks begin to brown, about 5 minutes or so.  Cool.
While the mixture cools, beat the eggs and add salt and pepper. Pour in the milk and cream, Romano cheese and add the cooled leeks. Combine thoroughly.
Place half of the bread cubes into a casserole dish large enough to accommodate the ingredients. Stir the egg-milk mixture again and pour half over the bread.
Crumble all of the Chevre' and nearly all of the Gruyere evenly over this layer of the bread mixture, saving just a handful to sprinkle on the top layer.
Add remaining bread cubes. Stir egg-milk mixture once more and pour evenly over the strata. Sprinkle top with remaining Gruyere.
Place mixture in the refrigerator, covered overnight. If you plan to serve the same day, let the mixture set for at least 4 hours before baking. The flavors will blend more thoroughly the longer it sets.
When ready to bake, take the strata from the fridge and bring it up to room temperature for about an hour.
Preheat the oven to 375 degrees. Place the strata in the lower third of a hot oven, lower the oven temperature to 350 and bake for 60 to 75 minutes until the top is golden brown and the middle of the strata is puffy, not sunken in.  Watch it! Oven temperatures and thus cooking times vary.
The strata will look like a soufflé in the oven, but will fall once it cools – that's why it's called a strata and not a soufflé!!   Serve warm. It's delicious.