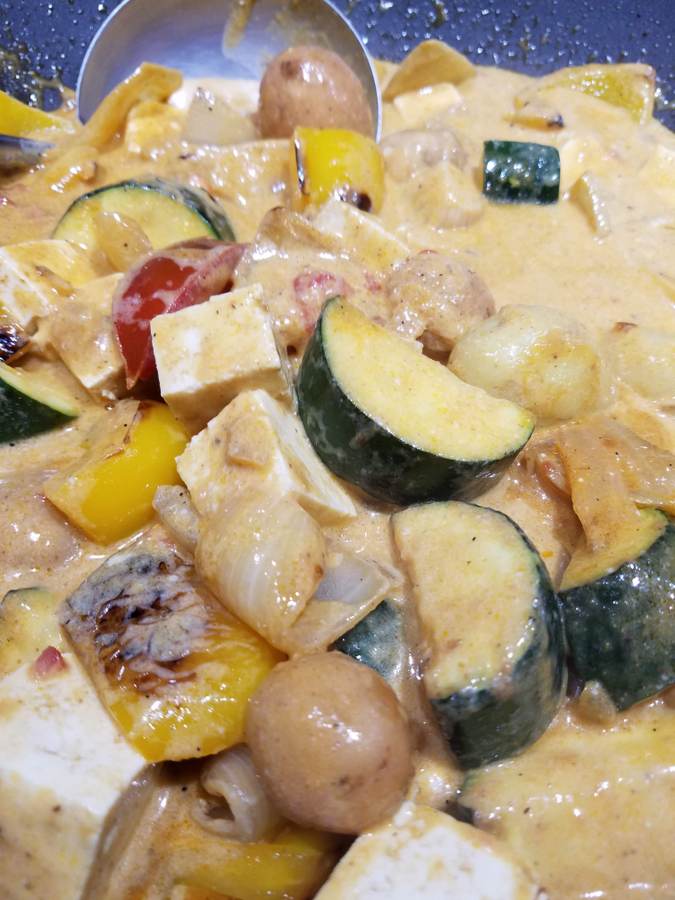 Wait til you taste this Indian Veggie and Tofu melange gently cooked in a delicate sauce of coconut milk and warming Asian spices!  Outstanding!
Serves 6
Serve with Dee's Coconut Rice Pilaf
What You'll Need:
1 small shallot, finely minced
Clarified butter or ghee for frying shallot
Masala Simmer Sauce (12 oz.), such as "Curry Delights"
1 can (13.5 oz.) full-fat organic coconut milk
2 teaspoons sugar
½ small Thai or other hot chili, cut in half lengthwise
15.5 oz. organic sprouted tofu cut into 1-inch cubes
Veggies of your choice, all cut into 1 inch chunks such as:
Zucchini
Summer or yellow squash
Small boiling potatoes
Sweet potato
Tomatoes
Eggplant
Carrots
Orange, yellow or red peppers sweet bell peppers
Sweet onion, such as Texas sweet or Vidalia
** You can add as many or as few veggies as you like **
Steps:
In a 4-6 quart soup pot, sauté shallot in about 1 teaspoon clarified butter until translucent.
Slowly add Masala Sauce and stir to heat through. Add coconut milk and lower temperature to medium low, stirring to thoroughly combine.
Add sugar and chile. Stir until a slow simmering boil begins. Taste for heat and sweetness.
If too hot, remove chili; if not hot enough for your taste, you can add more to your personal serving.
If not sweet enough, add a little more sugar, taste and adjust to your liking.
To simmering sauce, add prepared white and sweet potatoes, carrots, sweet peppers, eggplant and onions. Bring back to the slow boil and cook for about 5-7 minutes at a slow, rolling boil, or until veggies are nearly cooked through. If the white potatoes are cooked, likely the other veggies are also.
Add, zucchini, yellow squash and tomatoes.  Continue simmering on medium low heat until squash is cooked to your liking. The liquid temperature will drop each time you add an ingredient. Add tofu and heat through.
Serve with/over Dee's Coconut Rice Pilaf, topped with a sprinkle of chopped fresh cilantro (coriander).
Enjoy!