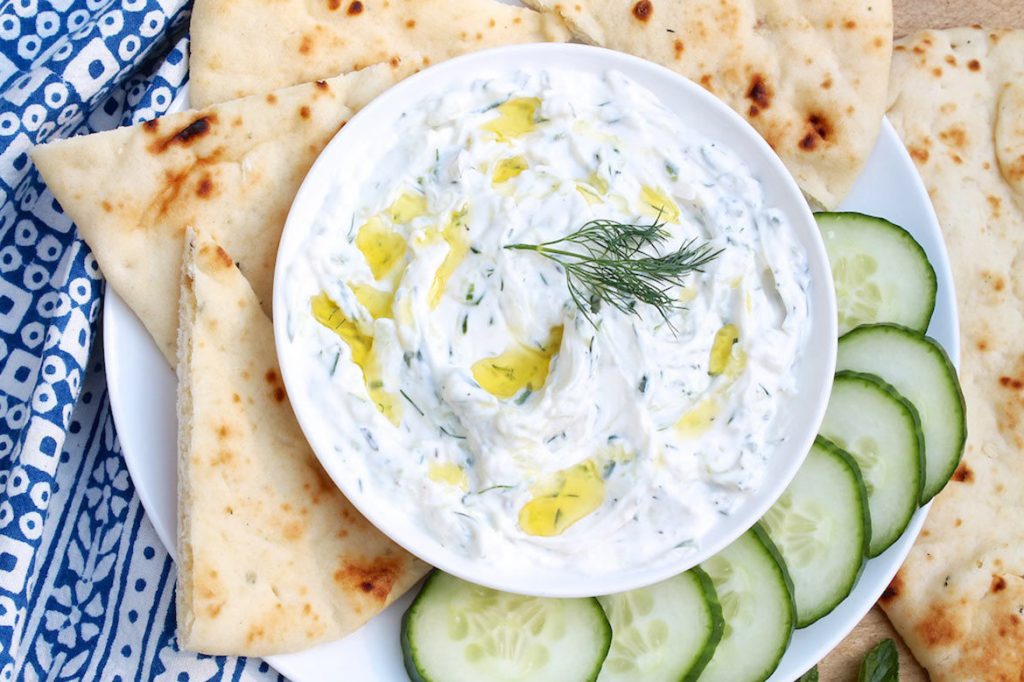 The word tzatzeki has origins in Turkey and Armenia and is the Greek name for this delicious dip. Actually, Tzatzeki can be either an appetizer, side dish or cold soup. Variations of tzatzeki are served in Turkey, Armenia, The Balkans, Cyprus, The Middle East and even Poland!
What You'll Need:
1 cup whole milk yogurt
2 cloves garlic, pressed or finely minced
1 Tablespoon fresh lemon juice
1 teaspoon grated lemon zest
1 Tablespoon extra virgin olive oil
1 large English (has less liquid) cucumber
2 Tablespoons fresh minced dill
1-2 teaspoons chopped mint
Kosher flake salt
Freshly grated black pepper
Steps:
Combine the yogurt, garlic, lemon juice, lemon zest, olive oil and salt. Set aside to combine flavors. If not serving immediately, let this mixture set in the refrigerator to combine flavors for up to 24 hours before adding cucumber and remainder of ingredients.
If you are not in a rush to serve, grate the cucumber, put it in a sieve over a bowl and place in the refrigerator overnight to drain. If you want to serve the tzatzeki relatively quickly, put the grated cucumber in a tea towel and squeeze some of the liquid out. Don't get carried away! You want some, but not all of the cucumber liquid to flavor the dish. Squeezing some of the liquid out will prevent your finished product from becoming too watery.
About 1 hour before serving, combine cucumber and remaining ingredients with the yogurt mixture. Taste and adjust flavors to your liking.
Spoon tzatzeki into a serving bowl. Drizzle a little extra olive oil over the top and graze with a grinding of freshly grated or cracked pepper just before serving.
Serve with warm pita bread or Naan or Dee's homemade Baked Pita Chips.