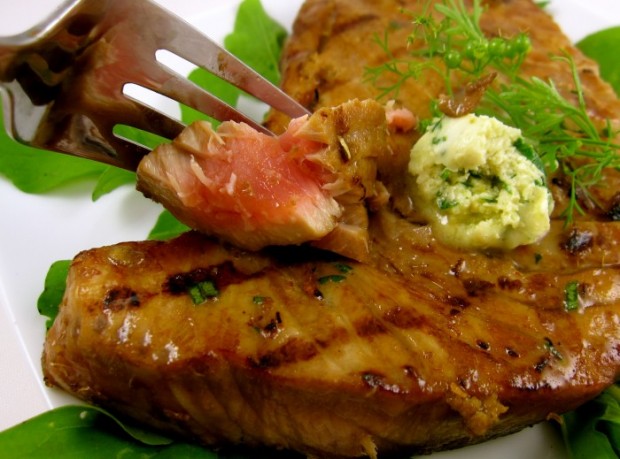 Dee's Ginger Marinated  Tuna with Wasabi Butter 
Because tuna is so meaty and lean and this marinade has sugar in it, the fish will want to stick to the grill. To help prevent this, make sure the cooking surface is clean and hot. Drizzling the fish with olive oil just before putting it on the hot grill also helps.
Grill each side for only 2 to 2 1/2 minutes. The center should be raw, like sushi, or the tuna will be tough and dry. You can cook it longer, but you will risk drying the fish out and taking away from the taste. Allow to rest for 5 to 10 minutes and serve.
What you'll need:
For Marinade whisk together:
1/3  cup rice vinegar
3 Tablespoons sugar
3 Tablespoons dry sherry
2 Tablespoons soy sauce
1 Tablespoon chili garlic sauce
1 Tablespoon toasted sesame oil
Stir in:
¼ cup scallions (green onions) including tops, chopped
4 garlic gloves, smashed
4 thin slices fresh ginger, crushed or finely chopped
4 Tuna Steaks
Zip lock bag
Steps:
Whisk vinegar, sugar, sherry, soy sauce, chili sauce and sesame oil until sugar is dissolved.
Stir in scallions, garlic and ginger. Pour marinade into a large resealable plastic bag.
Add tuna, seal the bag and marinate in refrigerator 15 minutes.
Clean grill grates, then brush with cooking oil. Preheat grill to medium-high.
Remove tuna from bag, discard marinade and drizzle the fish with olive oil. Grill the steaks to your liking as noted above.
Top each warm steak with a dollop of Wasabi Butter.
WASABI BUTTER – Makes about ½ cup
Ingredients:
2 Tablespoons wasabi powder
1 Tablespoon fresh orange juice
Blend in:
½ cup unsalted butter, softened
1 Tablespoon minced fresh cilantro
Salt to taste
Stir together wasabi powder and orange juice. Blend in the remaining ingredients, spread onto plastic wrap, roll tightly in a cylinder and twist the ends. Chill until firm, then slice into rounds. This will keep for about a week in the refrigerator.