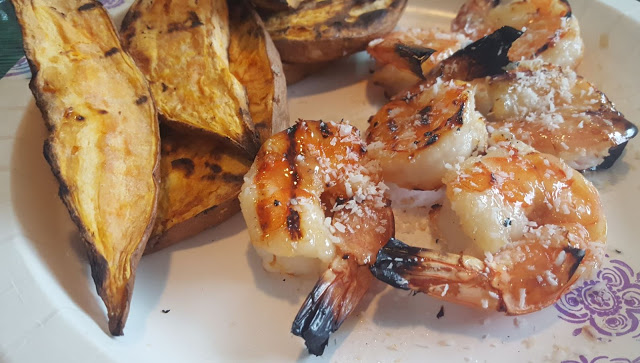 Dee's Grilled Coconut Shrimp
A unique, quick and delicious coconut shrimp without the frying!
What you'll need:
½ cup organic coconut milk
¼ cup light brown sugar
2 Tablespoons honey whiskey or spiced rum
1 Tablespoon freshly squeezed lime juice
1 pound jumbo shrimp or prawns, peeled and deveined
1 Tablespoon of shredded unsweetened coconut
Thin wooden skewers soaked in water for 1 hour before use
Steps:
Combine coconut milk, brown sugar, whiskey (or rum), and lime juice in a large bowl. Whisk until sugar is dissolved.
Divide the mixture in half to use as both marinade and glaze.
Add shrimp to a zip lock baggie or bowl. Pour the half of the mixture that is to be used for the marinade into the bag to cover the shrimp.
Place in fridge for 1 hour.
Start the glaze after the shrimp has been marinating for about 40 minutes
Place the coconut milk mixture saved for the glaze in a small saucepan over low-medium heat. Bring to a simmer and stir constantly, until thickened slightly.
Remove from heat.
Remove shrimp from refrigerator and thread on skewers.
Grill shrimp about 2 minutes on each side or until cooked through.  DO NOT overcook the shrimp!
Remove from grill and brush glaze on the shrimp
Sprinkle coconut shreds on top of the shrimp and serve.