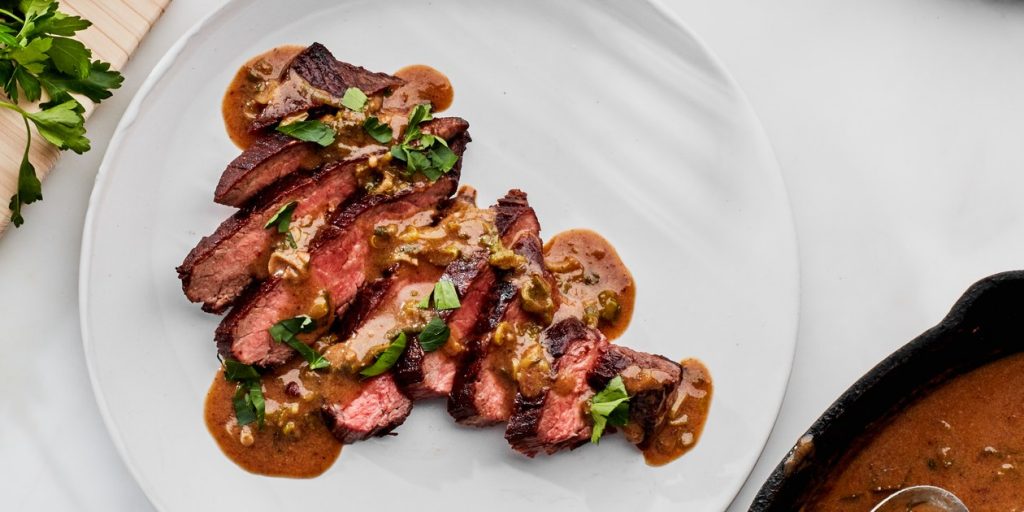 Dee's Steak Diane
There are many recipes out there for Steak Diane. If you have never tried it, you've missed something! I have adapted my recipe through the years to suit my tastes. A splash of Madeira wine or Port puts it over the top. If you're going to eat steak, do it this way!!
What you'll need:
4 Filet Mignons or any flavorful, tender steak such as Rib Eye
Butter and Olive Oil for cooking
Sauce ingredients:
2 oz. Lea and Perrins Worcestershire Sauce
1 oz. Heinz 57 Sauce
1-2 teaspoons Dijon Mustard, whole grain preferred
1 oz. A-1 Steak Sauce
1 Tablespoon French Demi-glace*
Few drops Tabasco Sauce
Splash of Madeira or good quality Port wine, if available
*The addition of demi-glace will add depth to your finished sauce. "More Than Gourmet" Classic French Demi-Glace is available online and is an excellent choice.  This dish can be made without the demi-glace as well.
Add to sauce:
½ cup coarsely chopped parsley
4 green onions with green tops, sliced
Lots of freshly ground black pepper
Steps:
Heat a large skillet and add a small amount of olive oil to the pan. Now add 3 to 4 Tablespoons of butter.
Cook steaks on medium high heat, turning once, until cooked to rare and a nice crust forms. Remove to a plate but do not cover.
Combine sauce ingredients and pour into hot pan with drippings from steaks. Allow to come to a rolling boil. Turn down heat and continue to cook until mixture becomes "shiny" which will mean that the sugars have caramelized, giving the dish a deeper flavor.
Add parsley and green onions and cook about 2 minutes more, turning heat to simmer.
Replace steaks to pan and cook in the sauce until done to your likeness.
Dee's Note on Choosing Meat
Look for the grade USDA. There are actually 8 quality grades, but only the top 3 are available to consumers: Prime, Choice and Select. Prime meat is the very best–tender and juicy and full of flavor due to their high degree of marbling of fat. Prime cuts make up only about 2% of all graded beef and are the most expensive and hard to find. Choice is the next best, but quality tends to vary. For the best of the choice grades, look for the pieces with the most marbling. Select cuts are the least tender and are best prepared with moist heat cooking such as braising.