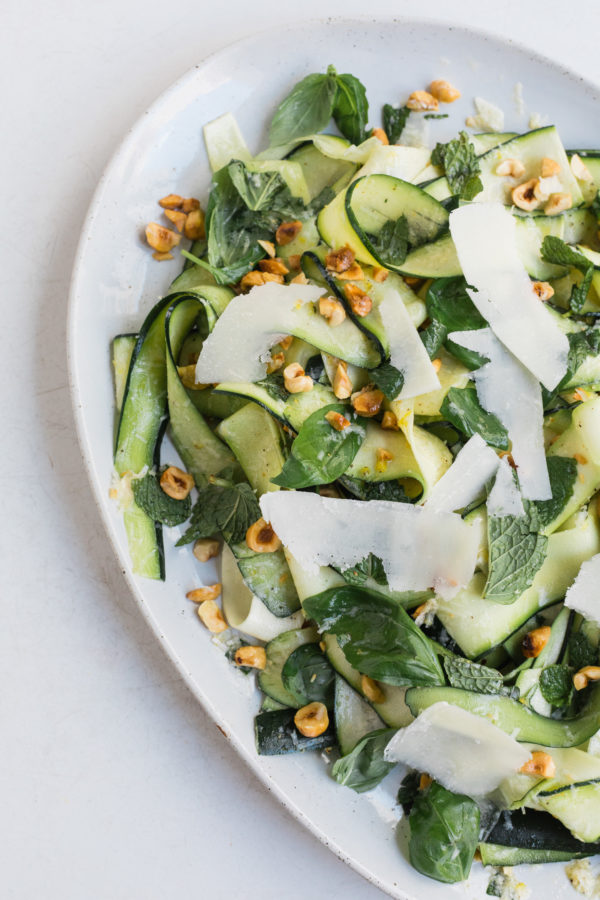 Serves 4
For those who grow their own zucchini, here is something  try for a refreshing change!
A mandolin works well for this, but if you don't have one, just use potato peeler and slice the zucchini in very thin ribbons from top to bottom.
What you'll need
2 teaspoons grated lemon zest
3 Tablespoon juice
½ teaspoon honey
3 Tablespoons extra virgin olive oil
½ teaspoon flake Kosher salt
¼ teaspoon ground black pepper
2 medium zucchini
1 oz. / 1 cup freshly grated Parmesan cheese, using the fine grate
Shaved Parmesan for serving
½ cup lightly packed mint leaves, torn
½ cup lightly packed fresh basil leaves, torn
½ cup hazelnuts or toasted almonds
Steps:
In a large bowl, whisk together the lemon zest and juice, oil, honey, salt and pepper. Set aside.
Using a Y-style peeler or mandolin to shave the zucchini from top to bottom, totating as you go. Stop shaving when you reach the seedy core. Discord the cores or save to add to a soup you will puree.
To the dressing, add the shaved zucchini, cheese, mint and basil. Your Parmesan once freshly grated should have a "fluffy" appearance.
Gently toss until evenly coated.
Transfer to a serving plate and sprinkle with shaved Parmesan and the nuts.