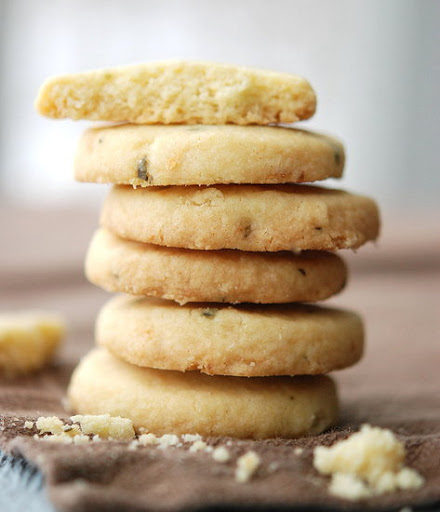 Makes about 3 1/2 dozen cookies
What you'll need:
1 cup unsalted butter, softened
1 cup granulated or brown sugar (either one works)
1 large egg
1 teaspoon vanilla extract
2 Tablespoons fresh lemon juice
1 Tablespoon freshly grated lemon zest
2 ½ cups all-purpose flour
1 Tablespoon finely chopped fresh rosemary
¾ teaspoon Kosher flake salt
½ cup fine sanding sugar or sparkling sugar
Steps:
Mix together butter and sugar on medium speed until pale and fluffy.
Mix in egg, lemon juice, zest and vanilla.
Reduce speed to low and mix in flour, rosemary and salt.
Roll dough into two 6-inch logs and freeze.
Baking:    Preheat oven to 375 degrees.
Unwrap the dough and roll it in sanding sugar; cut cookies into ¼ inch rounds.
Bake for 15 to 18 minutes until edges are golden.