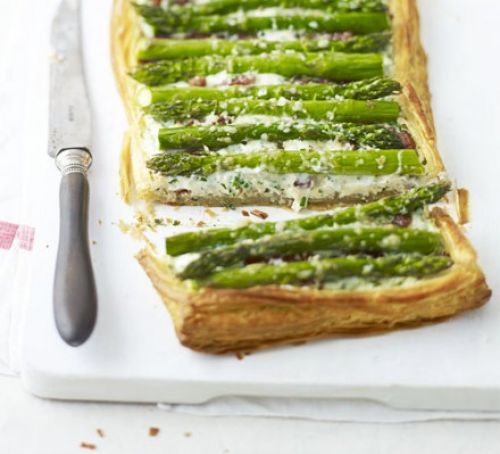 Serves 6
What you'll need:
1 Tablespoon flour
1 sheet (8 oz.) puff pastry, thawed if frozen
½ cup grated Parmesan cheese
1/3 cup grated Gruyere cheese
1 pound medium asparagus, trimmed
2 Tablespoons good quality olive oil
1 Tablespoon finely grated lemon zest
1 Tablespoon fresh thyme, chopped
Salt and freshly ground pepper to taste
Steps:
Sprinkle flour onto work surface; roll out pastry dough to a 14 x 9 inch rectangle.
Trim the rolled dough for neat edges, then transfer to a parchment-lined baking sheet. Score the pastry dough lightly with a 1-inch border on all sides. This will allow the dough to form a raised edge.  Pierce the interior dough with a fork to keep it from puffing up.
Bake until lightly golden, about 10 to 12 minutes.
Remove pastry from the oven and sprinkle with the cheeses. Place the asparagus on the interior of the tart, alternating with ends and tips.
Add lemon zest to olive oil and drizzle the asparagus with olive oil. Scatter the thyme leaves on top. Season with salt and freshly ground pepper.
Bake until puff pastry is golden and asparagus is tender, about 15 minutes.
Serve warm or at room temperature.