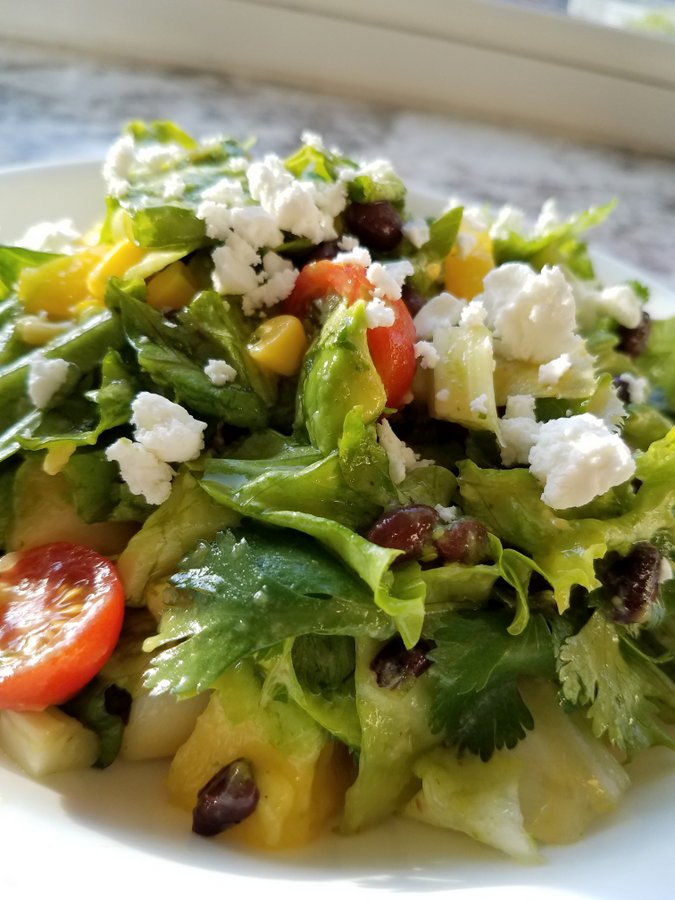 South of the Border Chopped Salad with Mango                                & Spicy Lime Cilantro and Honey Dressing
This delightful Mexican-influenced salad can be made any time of the year. You can add or delete whatever you like to the salad to personalize it to your tastes. If you have a Vitamix blender, making the dressing will go a little faster, but any blender will do.
What you'll need:
For the dressing
1 cup very ripe fresh or frozen mango, chopped
½ Serrano or Jalapeno chili, or to taste
1 Tablespoon honey or to taste
Juice of 2 juicy limes or about 1/3 cup
2 cloves garlic, chopped
3 Tablespoons chopped cilantro stems (carefully washed)
2 teaspoons salt
1/3 cup good quality olive oil
Shaker jar
For the salad
2 hearts of romaine lettuce or a mixture of your favorite greens, chopped
2 green onions, thinly sliced
1 can black beans, rinsed
1 cup fresh or frozen corn kernels
1/2 cup diced sweet pepper (yellow, red, whatever you like)
1 large avocado, diced
1 cup halved sweet cherry tomatoes
Cubed jicama to taste
1 stalk celery, diced
½ cup peeled cubed cucumber
1 to 2 cups fresh or frozen mango cubes
½ cup whole cilantro leaves, removed from stems
1 cup crumbled good quality Feta cheese
Steps:
Place all salad dressing ingredients, EXCEPT olive oil into a Vitamix or blender and blend on high speed until liquefied.
Taste the mixture for balance and add salt, chilies, mango, more lime juice, etc. to your personal taste. Blend again.
When completed, pour your dressing into a shaker jar and add olive oil. Shake vigorously to blend and taste again just to make sure dressing suits your taste.
Place all salad ingredients except Feta cheese in a large bowl. Chill until serving time.
When ready to serve, pour dressing over salad and mix thoroughly. Crumble generously with Feta Cheese and serve.