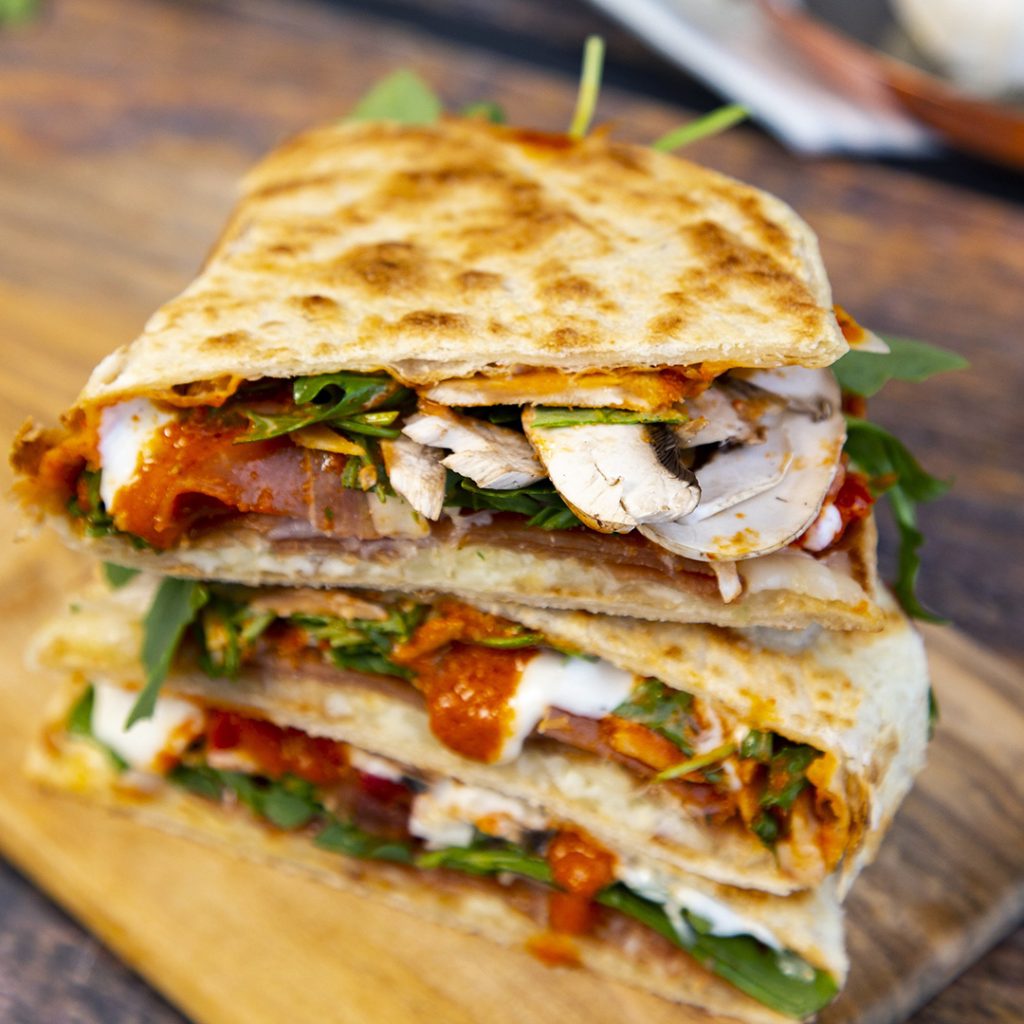 Piadina: Rustic Italian Flatbread Sandwich
Makes 6
Piadina is an Italian flatbread originally from the Northern Romagna historical region.  You can find piadina made with different ingredients and may even compare them to the tortilla or naan. But they are all very different in consistency, taste and texture. Traditionally piadina is made with lard.  Olive oil makes for a lighter, crispier piadina, while lard will make for a softer and richer bread. Using milk also makes the bread softer, water makes it firmer.  Some recipes use a little leavening agent such as baking powder or soda and some do not.
Here's how I do it. Let's make piadina!
What you'll need:
3 cups all-purpose flour
1 ½ teaspoons baking powder
3/4 teaspoons salt
3 Tablespoons olive oil
½ cup warm water
6 Tablespoons warm milk
Griddle or 10 inch cast iron skillet
Filling ideas:
Cheese of your choice such as mozzarella, Fontina, Provolone
Meat such as Prosciutto, salami, mortadella, ham
Ricotta, either sweetened not
Arugula, lettuce, cabbage, spinach
Thinly sliced onion
Sliced tomatoes or quartered cherry tomatoes
Anything you want!!
Steps:
Combine the first 3 ingredients in a large bowl and blend together.
Add olive oil and mix together with your hands until crumbly.
Make a well in the mixture and add the warm water and milk. Mix with your hands until the dough comes together into a dough that is soft but not sticky. You may need to add a little more water to get the dough to come together. It won't take much.
Turn the dough onto a clean work surface and knead until it is soft and smooth.
Divide the dough into 6 fairly even pieces. Roll each piece into a ball and lay them out on a lightly floured surface. Cover them with a tea towel and let them rest for about 30 minutes. This is an important step, so don't rush it.
Once the dough has rested, roll each ball into about a 9 inch diameter circle. If it's not perfect, no worries! Try not to overwork the dough so that it doesn't toughen.
Heat your pan or griddle so that it is hot. You want to see a drop of water skip across the top.
Gently place your rolled piadina, one at a time, on the hot griddle surface and cook on medium heat for 2-3 minutes per side until still cooked but still pliable. You can poke a hole into any bubbles that may form with a fork.
Remove the flatbread from the griddle and wrap it in a clean tea towel to stay soft and warm as you cook the remainder of the dough.
OR, if you are using meat and cheese, add your sandwich fillings to the piadina while it is on the griddle and fold it into a half moon around the fillings. Heat the sandwich n the griddle for 2-4 minutes until the fillings are warm and the cheese is melty.
OR, you can serve the piadina flat and pile on the toppings, then fold over and enjoy!