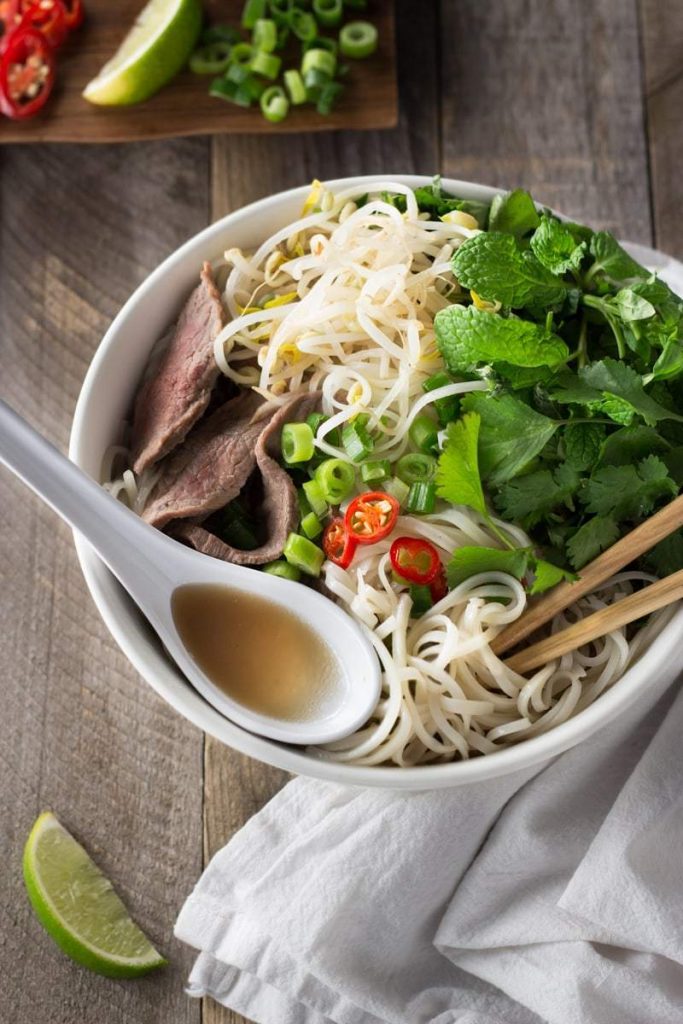 Pho (pronounces FUH) is an aromatic and satisfying soup from  Vietnam. The blending of flavors in this soup is nothing short of genius. Vietnamese is among my favorite cuisines because of the freshness and healthfulness of the ingredients. Don't be put off by the list of ingredients! This soup takes about 45 minutes to prepare start to finish. As with any recipe, read first, then gather your ingredients.
Vietnamese Beef Pho
Serves 4
What you'll need:
8 oz. rice noodles
8 oz. lean beef sirloin or tenderloin, fat trimmed
Kosher salt
1 large onion, halved
1  4-inch piece ginger, unpeeled, halved
4 cups beef broth
2 cups water
1-2 Tablespoon good quality fish sauce (Red Boat) or to taste
1 Tablespoon Tamari or soy sauce
1 Tablespoon sugar, rock or Turbinado sugar is preferred
2 star anise pods
2 cinnamon sticks
4 scallions
2 jalapeno peppers, preferably red and green
½ cup fresh cilantro
½ cup fresh mint leaves
½ cup fresh basil leaves, Thai or purple basil preferred
1 cup fresh mung bean sprouts
Steps:
 Prepare the rice noodles as the package label directs.
Meanwhile, place a large pot or wok over high heat. Poke the meat all over with a fork to tenderize it and season with salt and pepper. Sear the meat until charred but still rare, 2 to 3 minutes per side according to thickness, then transfer to a plate and let meat rest until ready to slice.
Add the broth and 2 cups water, the two onion halves, ginger, star anise, sugar and cinnamon and reduce heat. Simmer about 20 minutes.
Meanwhile, thinly slice the scallions and jalapenos and remove the cilantro and basil leaves from stems and plate.  The herbs will be used to top the soup.
Thinly slice the meat against the grain and set aside. Drain the noodles.
Add the fish and soy sauces to the broth and slow boil for 3 to 4 minutes. Taste and adjust seasonings.
 Discard the ginger, star anise and cinnamon stick. Remove and slice the onion.
Divide the noodles among 4 bowls; top with beef; then ladle the broth into the bowl.
Top the soup with scallions, fresh herbs, bean sprouts, jalapenos and green onion to your liking.
You can also add Hoisin sauce to the soup in your bowl for a sweet touch and a couple of shakes of Sriracha sauce for more heat if you like.
If you want to make this VEGETARIAN, use vegetable stock and skip the fish sauce. Instead of beef, top the pho with tofu, mushrooms, bok choi, broccoli or other veggies.