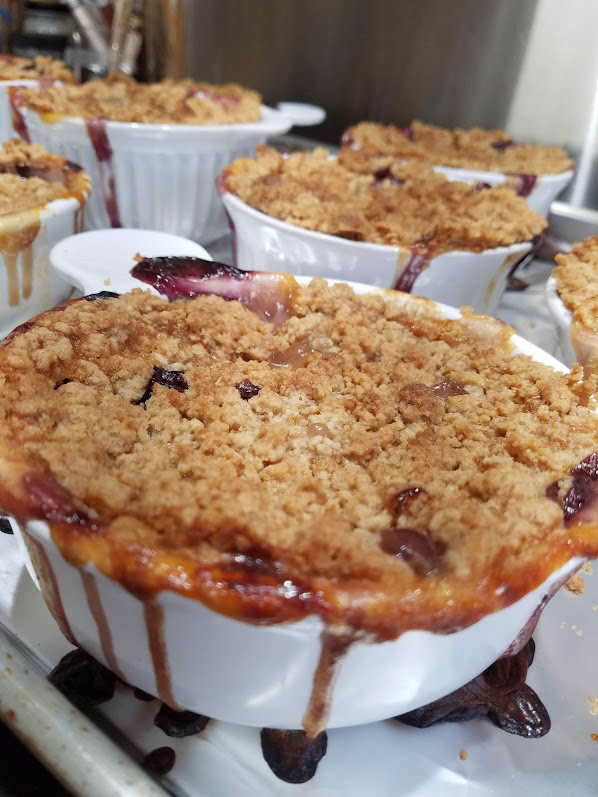 Dee's Peach and Berry Crisp
What you'll need:
Fruit
6 to 8 or two pounds ripe peaches
Juice from freshly squeezed lemon (2 Tablespoons)
Zest from ½ lemon (2 teaspoons)
½ cup sugar
¼ cup flour
1 cup fresh blackberries, blueberries or raspberries
Topping
2 cups quick cooking rolled oats
½ cup white or whole wheat flour
¼ cup honey
¼ cup brown sugar
½ teaspoon kosher salt
¼ teaspoon cinnamon
½ to ¾ cup melted butter
Chopped pecans or walnuts (optional)
Steps:
In a large bowl, gently combine fruit with other ingredients so that the fruit is coated. Taste and adjust sweetness to your liking. Turn into baking dish or individual baking dishes.
Combine oats with flour and nuts, if using, and mix together well.
Stir in honey, melted butter and spices. Combine until crumbly and moist. You may need to add more butter or if too runny, add more oats.
Cover the top of the peach and berry filling with the oat mixture.
Bake in 350 degree oven for 45 to 50 minutes or until bubbly and hot and the topping is golden.
Serve warm with vanilla ice cream sprinkled with a little cinnamon or home- made cinnamon ice cream and you will make friends for life!!
~yum~