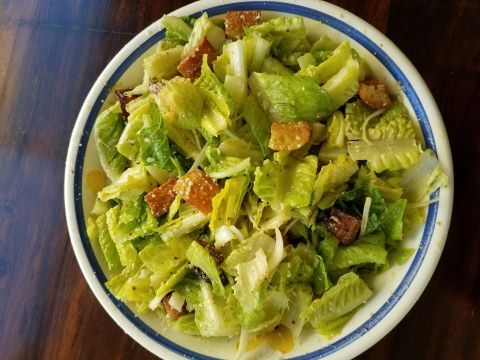 Dee's Classic Cesar Salad
Serves 4 as a main course
What you'll need:
For the salad:
2 medium heads hearts of Romaine lettuce, leaves crisped
2 to 3 spring onions (not classic, but I like them)
NOTE:  Try to use organic ingredients whenever you can!
For the dressing:
1/4 to 1/3 cup Extra Virgin Olive Oil
4 garlic cloves garlic, squeezed through a garlic press into oil
3 to 6 Tablespoons freshly squeezed lemon juice (taste and adjust)
1 small shakes of Lee & Perrins Worcestershire Sauce
2 – 3 teaspoons whole grain Dijon mustard (such as Maille)
2-3 finely chopped oil cured anchovies
1 coddled egg (raw egg cooked in boiling water x 1 minute)
Salt and large grind fresh black pepper to taste
For serving:
Croutons (preferably home-made –see below)
Freshly Grated Parmesan or Pecorino Romano cheese
Steps:
Wash the lettuce thoroughly and remove leaves from head. Wrap in a towel and refrigerate until crisp. Lettuce will usually crisp up nicely within an hour.  You can serve Romaine leaves whole and let your guests cut the leaves after plating, or you can tear or cut the leaves into about 2 inch pieces.
While the lettuce is chilling, if you are using green onion, cut into 1/3 inch diagonal slices.
Put a small pan of water to boil, just enough to cover one egg. Drop the egg into the boiling water and gently cook for no more than one minute. Remove the egg and cool with cold water or place in the refrig to cool a bit.
Combine olive oil, crushed garlic, lemon juice, Worcestershire, mustard and minced anchovies in a shaker jar.  Add salt and pepper to taste and adjust you dressing as you like it. If too oily, add more lemon juice; if too tart, add more oil, etc.
Just before you are ready to mix the salad, add the coddled egg to the dressing mixture and shake vigorously to thoroughly combine. If you are not serving the salad immediately, refrigerate the dressing now until ready to serve
When ready, add the crisped lettuce and sliced green onions to a bowl, pour dressing over salad, sprinkle with cheese and toss together.  Serve as described below. Be sure to shake your dressing thoroughly before using.
Plate the salad preferably on chilled salad plates. Sprinkle the top with homemade croutons.  Add more cheese, if desired and a grind of fresh pepper.
NOTE: The classic way to prepare this salad is to use a wooden bowl, rub the bowl with a halved garlic clove (then remove), then an anchovy, which you leave in the bowl. Next you pour your olive oil in and whisk lemon juice, Worcestershire, mustard, S&P separately, then the coddled (raw eggs were used in the original). The whole, crisped Romaine lettuce leaves go in last and are just coated with the dressing, then the cheese is sprinkled over top. When the salad is plated, the croutons are added and more cheese, if desired.
TO MAKE HOME MADE CROUTONS: Take firm old crusty bread such as ciabatta or Italian and cut into 1 to 1 ½ inch cubes. (If you use bread that isn't dense, it will fall apart in your salad.) Spread them out on a large cookie sheet and don't crowd them. Sprinkle with olive oil and a little garlic salt. Sprinkle with Romano or Parmesan cheese and toss around. Bake in a 375 to 400 degree oven until golden. Watch them!  They can burn easily. Usually about 12 to 14 minutes will do it if you oven if true.
CHEESE CRISPS:  If you want to get adventurous, serve with cheese crisps. Just take a small pan, like a crepe pan and sprinkle the bottom with grated Parmesan or Romano. Place over medium heat and let the cheese melt. When it starts to turn golden, take it out and place on paper towel. Make several and serve with salads such as this one.