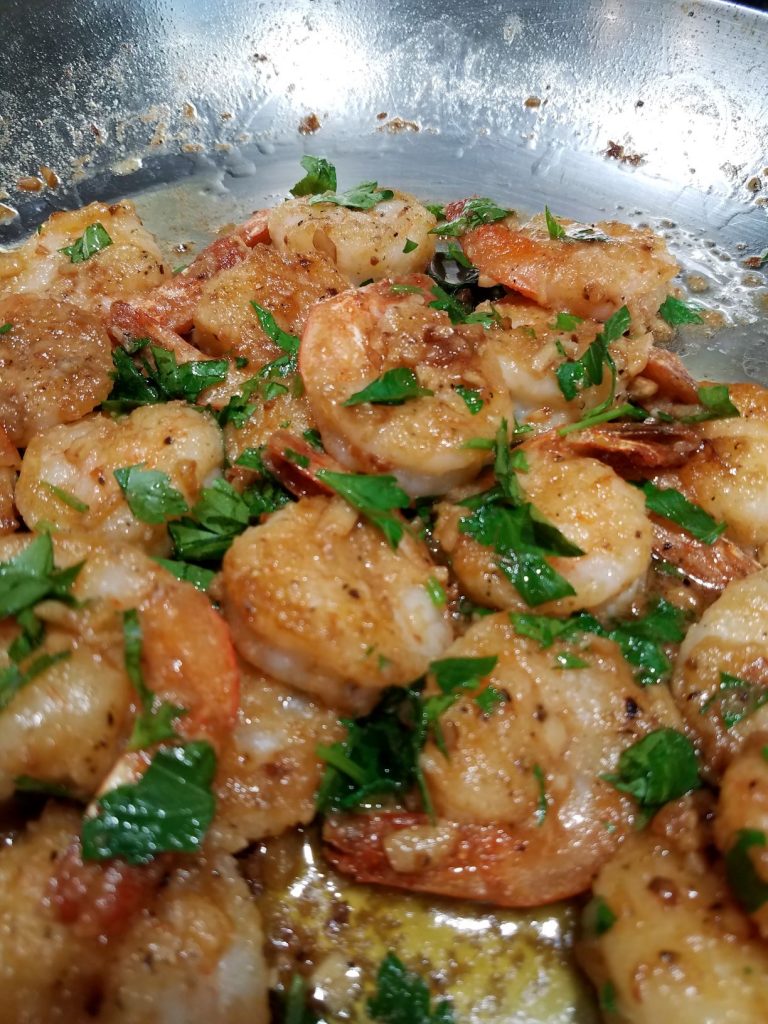 Dee's Shrimp Scampi
Serves 4
What you'll need:
16 to 20 (1 pound) extra jumbo shrimp or prawns, shelled with tails intact
4 Tablespoons olive oil, divided
4 Tablespoons butter
6 cloves garlic finely chopped or pressed through a garlic press
Salt
¼ cup white wine, light and non-bitter such as Riesling, Moscato or Pinot Grigio
Freshly squeezed lemon juice, 1 to 2 Tablespoons or more to taste
Fresh parsley, coarsely chopped
Freshly ground black pepper
OPTIONAL:
½ to 1 teaspoon red pepper flakes
Steps:
Peel and devein shrimp, leaving tails intact. Rinse shrimp and pat dry with paper towel.
Add garlic to 2 Tablespoons olive oil and ½ teaspoon salt in a medium bowl and add shrimp. Toss to coat and chill for about 30 minutes.
Heat 2 Tablespoons olive oil in a pan large enough to accommodate shrimp without crowding. Cook the shrimp until it begins to curl and is pink, slightly underdone – about 1 minute per side.
Remove shrimp from pan with a slotted spatula or spoon, leaving as much oil in the pan as possible. Set shrimp aside.
Add wine, pepper flakes, if using and lemon juice, stirring to scrape up any bits from the pan, until reduced by about ½.
Add butter and swirl in pan until butter is melted and sauce is thickened.
Add shrimp and any juices from plate back into pan and cook in sauce for about 2 minutes or until shrimp is cooked through.
Turn off the heat and sprinkle scampi with coarsely chopped parsley and freshly grated black pepper.
Serve immediately with some crusty bread to sop up all those delicious juices!