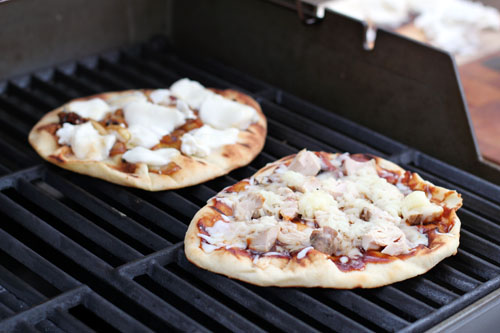 Makes (2) 14-inch pizzas or 4 individual pizzas
Making individual pizzas is a great way to spend time with the kids. Each child can individualize his or her own pizza.
It's a summertime hit!
What you'll need:
For the Dough
1 envelope or 1½ teaspoons active dried yeast
1 1/2 cups warm (110 degrees) water
4 cups unbleached all-purpose flour or bread flour*
1 teaspoon sugar
2 teaspoons salt
2 Tablespoons good quality olive oil
NOTE: Using bread flour will give you a much crisper crust. If you can't find bread flour, you can substitute it with all-purpose flour which will give you a chewier crust.
Toppings
Here are some ideas for you to try:
Sliced fresh tomatoes, fresh basil and mozzarella
Grilled eggplant slices, roasted tomatoes and artichoke hearts
Sun-dried tomatoes, basil and kernels of corn
Grilled radicchio, mozzarella, and pine nuts
Pesto; prosciutto and artichoke hearts
Sausage and tomato
Goat cheese, tomato and basil
Canadian bacon and pineapple
Grilled onion, tomato, basil and mozzarella cheese
Asparagus and bacon
Fresh herbs, prosciutto, garlic and freshly grated Parmesan or Pecorino Romano cheese
Sliced red onions, capers and sliced Fontina or a selection of barbecued vegetables
You can make an infused garlic or herb oil and lightly drizzle it over the completed pizza. This makes the pizza extra rich and delicious
Use your imagination. Possibilities are limitless!   
Steps:
In a small bowl, combine water, oil, yeast and sugar. Let sand for about 5 minutes.
Meanwhile, in a food processor, combine the all-purpose flour, whole wheat flour and salt. Pulse to mix. With the motor running, pour in the yeast mixture and process, pulsing for approximately 2 minutes until ball begins to form. NOTE: If you want to add fresh herbs to your dough such as rosemary or oregano, add it at this point.
Turn out onto a lightly floured surface and knead dough for 5 to 8 minutes until elastic and smooth. Shape dough into a ball.
Place the dough into a large bowl coated with olive oil, and rub oil over it. Cover with a clean cloth or plastic wrap and leave in a warm, draft-free place until doubled in size, about 1 1/2 to 2 hours.
Punch down the dough with your knuckles to expel the air.
Knead risen dough lightly for 1-2 minutes, then return to the oiled bowl, cover, and leave in a warm place to rise a second time until it has again doubled in size, about 45 minutes.
Punch down the dough again, then roll or pat out to the size pizza you wish. Don't worry about making a round pizza!
Place a pizza stone on the barbecue and heat it over medium heat.
Place your individual pizza round or large pizza on the pizza stone and cook until bottom just begins to brown lightly.
Take pizza round off the stone and turn over so that the browned side is up. Now add your toppings.
Place pizza back on pizza stone and cook until the cheese is melted or the toppings are hot. You may need to keep moving your pizza to prevent overcooking on the bottom.