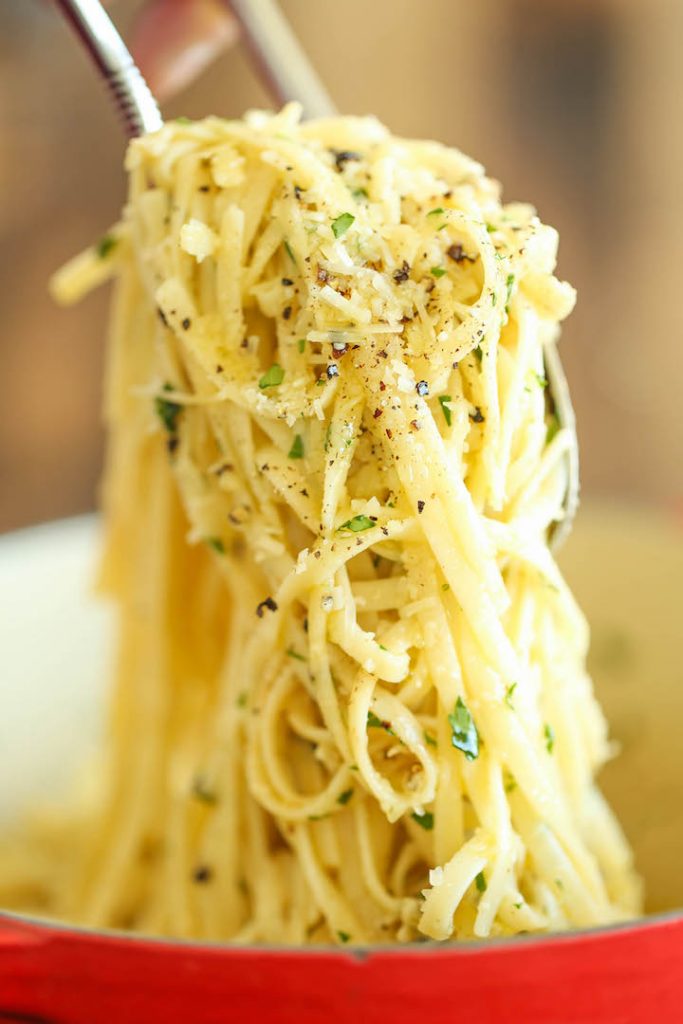 Pasta with
Garlic Infused Oil and Parlsey
(Spaghetti Aglio e Olio)
Serves 6
What You'll Need:
1 pound Pasta of your choice, cooked
Save 2 cups hot pasta water for 1 pound pasta
½ cup extra virgin olive oil
10 garlic cloves, thinly sliced
2 garlic cloves, crushed
2 Tablespoons salt for pasta water
2 teaspoons salt for cooked pasta
1 teaspoon hot chile flakes (optional)
Freshly grated black pepper (lots)
Fresh coarsely chopped parsley, ½ to ¾ cup (a good handful or more)
Freshly grated Parmesan or Romano cheese (optional)
Pangrattato (optional) See Recipe
Steps:
Place olive oil into a large skillet and warm over medium heat until it just starts to shimmer.
Add garlic cloves and cook them until they are golden. DO NOT OVER COOK YOUR GARLIC OR IT WILL BECOME BITTER.
NOTE:  Test oil temperature by putting one garlic slice in first . . if it sizzles, you can add the rest. This means the oil is hot enough.
3. Place your cooked garlic slices on a paper towel to drain off the excess oil.
4. Add the salt, pepper and chile flakes if using, to the oil and turn off the heat.
NOTE: I like my pasta garlicky, so at this point I add 2 large gloves of garlic pressed through a garlic press into the warm oil. Let the mixture set while you prepare the pasta.
5. Add pasta to rapid boiling, well-salted water. Stir and move pasta about to prevent clumping and sticking.
6. When pasta is cooked, remove from water and add directly to the warm oil in the pan. Add pasta water to the pasta and oil mixture ½ cup water at a time, stirring and tossing the pasta until it is loose and noodles easily separate.  I use up to 2 cups hot pasta water, adjusting salt to taste for every pound. Adjust according to how much pasta you are cooking.  Add Parmesano Reggiano if using and stir into the pasta at this point.
7. Pasta will soak up the liquid as it sets, so you will want to serve promptly. Taste and adjust for salt and pepper.
8. Add parsley just before serving and toss through pasta. Sprinkle with reserved garlic crisps
9. If using pangrattato, add only to the top of the pasta and grate fresh lemon zest over each serving.
This is fantastic! You may never eat pasta any other way!