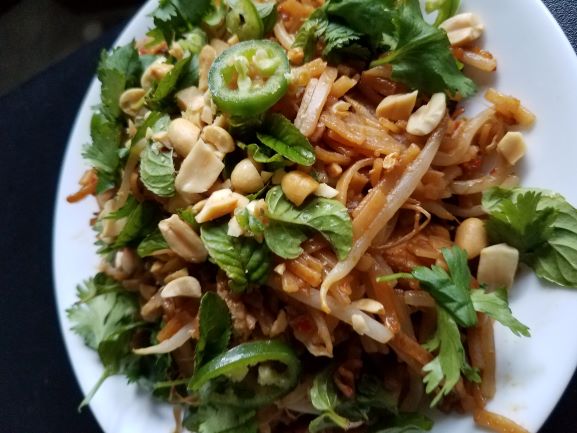 Dee's Quick Pad Thai
Serves 4
As with all recipes but especially Asian food,  preparation is the key. For example, put the sauce ingredients into a measuring cup for easy pouring into your hot wok;  chop all needed ingredients and put them on a cutting sheet for easy access in the order you need them. This meal can be prepared for 4 people in about 15 minutes once all your prep is done.
What you'll need:
6 oz. dried flat (pad Thai) rice noodles
3 Tablespoons good quality fish sauce, such as Red Boat
6 Tablespoons granulated sugar
2 Tablespoons light soy sauce
2 Tablespoons hoisin sauce
3 teaspoons chili-garlic sauce (such as Lee Kum Kee)
2 teaspoons grape seed or canola oil
1 Tablespoon minced garlic
1 lb. medium shrimp (24-30/lb.) peeled and deveined
1 lb. (15.5 oz.) medium firm tofu (sprouted tofu from Traders is excellent)
2 eggs, slightly beaten
1 small Thai, Serrano or Jalapeno chile, finely minced (or to taste)
2 cups bean sprouts
2 Tablespoons crushed or chopped unsalted roasted peanuts
1/3 coarsely chopped fresh cilantro
10 mint leaves, torn into small pieces
1 green onion or scallion thinly sliced
1 lime, cut into wedges for serving
Steps:
Follow pad Thai rice noodle directions on package for softening. Usually, Submerging the noodles in a bowl of very warm water (110 degrees) and soaking until they are pliable but still firm, about 20 minutes does the trick.
Drain the noodles in a colander and move them about with your hands to be sure they don't stick together. Set aside.
Drain and cube the tofu.
In a small bowl or measuring cup combine the fish sauce, sugar, soy sauce, hoisin sauce and chili-garlic sauce.
Heat the oil in a wok or large skillet over high heat until very hot, but not smoking.
Quickly add the garlic, stir and immediately add the shrimp. Stir fry until the shrimp turn pink and firm, about 2 minutes or so. Remove from pan and set aside.
Add the fish sauce mixture to the hot wok. Stir and cook until boiling and fragrant, about 1 minute, then add the minced chili and the noodles.  Stir fry until the noodles are tender and the liquid is absorbed, 1 to 2 minutes.  If the noodles are too firm or the mixture too dry, add 1 Tablespoon of water and cook another minute.
Move noodles to the side of the pan and while heat is still high, pour in the eggs. Scramble them on the side of the pan and when cooked, stir gently into the noodle mixture.
Add bean sprouts, tofu and cooked shrimp and stir fry until sprouts are slightly limp and tofu is heated through, 1 to 2 minutes.
Transfer to a serving platter or individual plates, garnish with peanuts, cilantro, green onion and mint and serve with lime wedges on the side.
If you like your Pad Thai a little spicier, you can add some thinly sliced fresh hot chilies to your individual plate. Adds a nice kick!