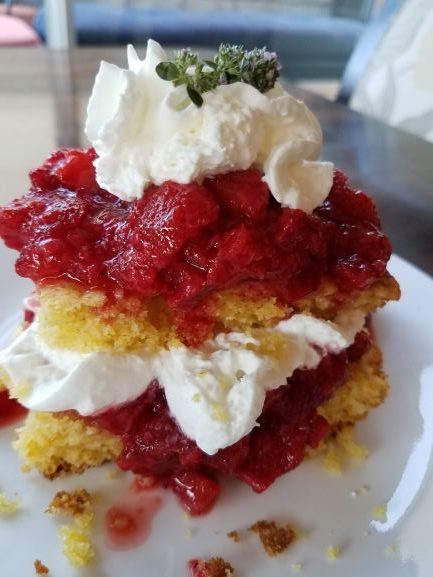 Sweet Rosemary Cornbread with Strawberries and Whipped Cream
An original Dee thing
Serves 6
What you'll need:
For shortcake
Cornbread mix of your choosing (Jiffy, Trader Joe's, homemade, etc.)
1 Tablespoon granulated sugar
1 Tablespoon fresh finely chopped rosemary or lemon thyme plus extra for plating
3 cups whipped cream, homemade or canned, or non-dairy whipped topping
For berries
6 cups fresh strawberries
1-2 teaspoon fresh finely chopped rosemary or lemon thyme
Sugar for sweetening berries if not sweet enough
6 whole strawberries for garnish
Whipped cream
1 pint cold heavy cream
2 teaspoons sugar
1 Tablespoon, or to taste, flavored liqueur such as Cointreau or other fruit flavor
OR
Canned whipped cream or non-dairy topping of your choice
Steps:
Make cornbread batter per package directions. Add 1 Tablespoon of sugar and chopped herbs of your choosing to the batter. Rosemary has a more intense flavor than the lemon thyme so keep this in mind when adding herbs.
Bake as directed per package directions and let cool.
While the cornbread is baking, hull the strawberries and place in a large bowl. Add sugar to taste (if your berries are already sweet, you may not need any sugar) and rosemary or thyme. Mash with a potato masher until berries render juice but are not pulverized. Taste and adjust for flavor. You may want to add more herbs or more sugar.
Whip cream on high speed of mixer or whisk to form soft peaks, add sugar and liqueur to taste.  Beat until stiff peaks form.
Assemble the cake by cutting the size corncake you want. Slice it horizontally in half. Spoon berries on bottom half and add a dollop of whipped cream.
Place the top portion of the corncake onto the completed bottom half and spoon desired amount of berries over top. Add another dollop of whipped cream to the top.
Garnish with a sprinkle of chopped rosemary or thyme and serve.