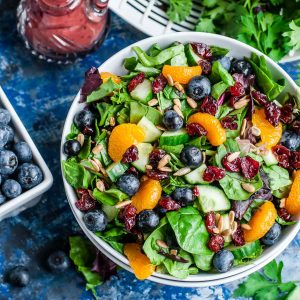 Spinach Salad with Blueberries, Almonds and Oranges
Serves 6
What you'll need:
For the salad:
12 oz. organic baby spinach leaves, washed thoroughly
You can use baby kale or mix kale and spinach together, if preferred
8 oz. fresh blueberries
2 Persian cucumbers, halved lengthwise and sliced 1/2 inch thick, optional
4 oz. sliced almonds
1 large can mandarin oranges, drained OR
Segments from 1 blood orange, pith removed
Red onion slices or chunks
Sesame seeds to taste
For the Dressing:
1/3 cup good quality olive oil
1 Tablespoon soy sauce or tamari
2 Tablespoons cider vinegar
2 Tablespoons brown sugar
Salt and pepper to taste
Steps:
Mix dressing ingredients in a shaker jar.
Combine salad ingredients, except almonds
If you are making this dish ahead, place the cucumber chunks, oranges and blueberries on the bottom of the bowl, then add the onions and put the spinach on top. Refrigerate to crisp spinach.
Just prior to serving, toss salad with dressing just until it glistens, sprinkle with sliced almonds and sesame seeds. Serve immediately.