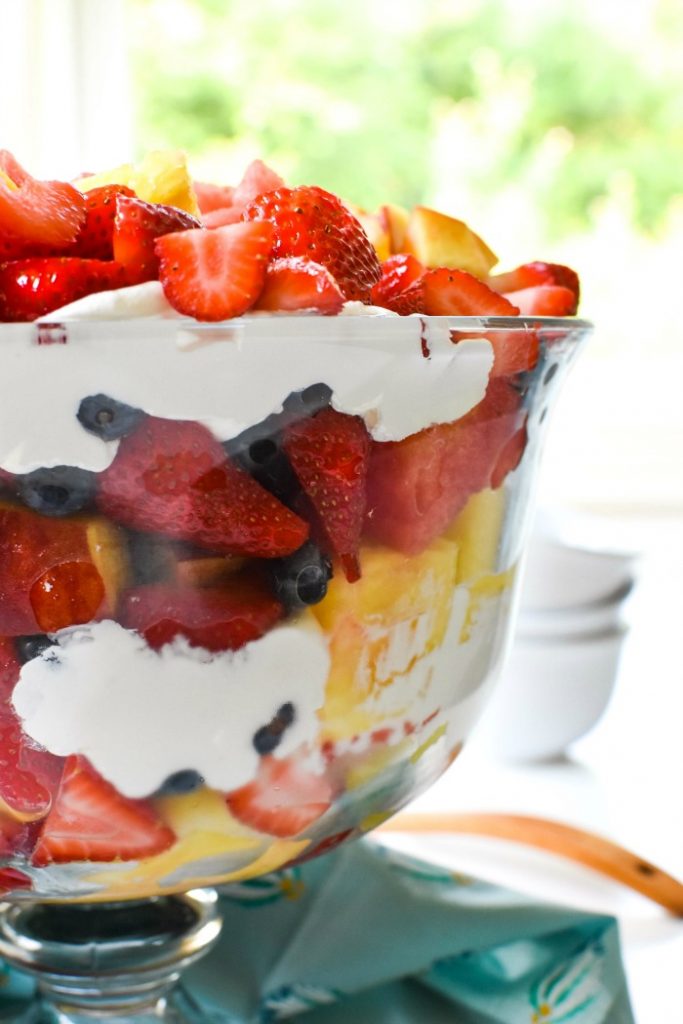 Use any in season fresh fruit that you like. You can choose to layer with cubes of plain or lemon pound cake drizzled with your favorite fruity liqueur or keep it kid-friendly and omit the alcohol. You can even make it a little less caloric by omitting the cake. You can also add some baby chocolate chips just for interest or add nuts for crunch! Whichever way you choose to make it, you will love this!  OK everybody! Spoons up!
Decadent Summer Fruit Trifle With Coconut
Serves 8-10
What you'll need:
Trifle Cream ingredients
8 oz. container of whipped topping
2 cups sour cream
1 cup superfine sugar
1 8 oz. package unsweetened flaked coconut
¼ teaspoon orange or lime extract
Trifle ingredients
Plain or lemon pound cake, cut into cubes (optional)
Fruity Liqueur such as Cointreau (orange) or Chambord (raspberry)
2 cups fresh pineapple, cut into chunks
2 cups fresh strawberries, sliced
Cubed cantaloupe or honey dew melon
2 bananas, sliced
1 cup blueberries
1 cup blackberries
1 cup raspberries
Garnish (all optional)
Chopped pistachios or other favorite nut
Sweet roasted coconut flakes
Baby chocolate chip
Orange or lime zest
Steps:
Prepare the trifle cream
Stir together coconut, sugar and sour cream. Stir in whipped topping and orange or lime extract. Combine until blended. Set aside.
Making the trifle
Prepare the fruit by washing, slicing and combining the berries. You will be layering the fruit with cake and trifle cream and may choose to combine all the fruit or to layer it individually, which will make for a very pretty presentation. I would recommend combining the berries to prevent running out of cake and cream! You will have more fruit than filling, so adjust accordingly. I usually divide into 3 layers.
If using cake, cut into cubes and scatter on the bottom of a glass bowl large enough to accommodate all your ingredients. Sprinkle with a little of the liqueur.
Next add a layer of fruit (about 1/3 of the mixture. Dollop 1/3 of the trifle cream mixture on top of the berries.
Next layer cake, then fruit, then cream, etc. until you have used all of your ingredients.
Whether you have ended with a layer of trifle cream or fruit, scatter top with pistachios, baby chocolate chips or sweet roasted coconut chips from Traders. You may even want to end with a grind or two of fresh orange or lime zest and if serving adults, another trickle of fruit liqueur.