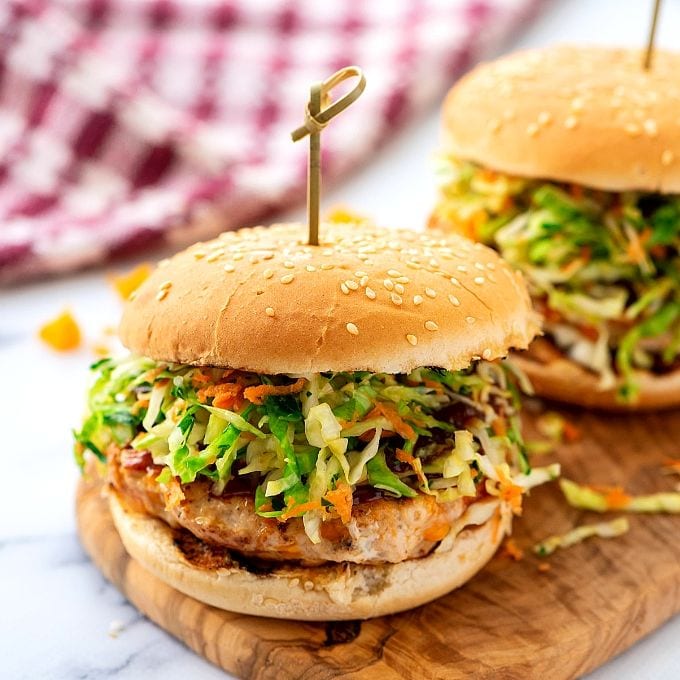 Asian Chicken Patties with Sweet & Spicy Sesame Slaw
Serves 4
This is a great low carb, low fat and low calorie dinner choice that you can whip up in about 45 minutes.
You can use the stove top to fry the patties or grill them outdoors. Serve patty with the slaw on the side or make a burger on a sesame seed bun and top it with the slaw. Really yummy stuff!
Ingredients:
For the patties
1 pound ground chicken
1 Tablespoon oyster sauce
2 teaspoons Tamari or soy sauce
2 teaspoons sesame oil
2 teaspoons finely minced ginger
2 cloves finely minced garlic
3 Tablespoons finely chopped chives or green onion
1 teaspoon kosher salt
¼ cup finely grated fresh breadcrumbs or panko
Olive oil if frying
For the Slaw
2 cups thinly sliced Napa cabbage or package mixed cabbage
1 red or orange bell pepper, thinly sliced
2 sweet carrots, julienne
2 green onions, thinly sliced
½ cup fresh cilantro leaves and tender stems
½ cup sliced almonds
White sesame seeds for sprinkling
Slaw Dressing
2 Tablespoons seasoned rice vinegar
1 teaspoon toasted sesame oil
1 Tablespoon olive oil or canola
1 teaspoon chili garlic sauce (optional)
1 teaspoon tamari or low sodium soy sauce
2 teaspoons grated or finely minced ginger root
1 teaspoon sugar or to taste
Pinch of salt or to taste
White sesame seeds for sprinkling
Steps:
Make the patties. Use a medium sized bowl and add all ingredients except breadcrumbs or panko. Mix together gently, taking care not to "smash" it together. Use a light hand when mixing. Add the breadcrumbs/panko lastly and gently combine to incorporate into mixture.
Divide mixture into 4 equal portions and gently form patties about ½ inch thick.  Place them on a plate, cover and refrigerate. Patties can be made a few hours in advance. Keep them cold until cooking time.
Now the slaw. Make the dressing first by combining all the ingredients in a small bowl and mixing with a small whisk or fork. Taste and adjust the flavors to your liking.
If you're in a hurry, just buy a bag of pre-cut cabbage slaw. If you prefer to know what ingredients you are getting, I recommend slicing the cabbage yourself. It only takes a few minutes. Grate the carrot and add all slaw ingredients, mixing thoroughly.
When ready to cook: If you are frying (my preferred method for these), add about 1 Tablespoon olive oil to preheated pan. If using non-stick, you can use less, but need a little oil to crisp the patties up a bit. Add patties one at a time and cook on medium low heat, covered for 6 minutes. Flip the patty and cook for another 5 to 6 minutes, covered. If you use a dome lid (like a wok lid) while frying the patties, the steam will keep the patties very moist. If grilling on a barbeque, cooking time will be about the same. I would recommend covering the cooked and plated patties with a lid or foil to create some steam.
Dress the slaw with as little or as much dressing as you like.
Serve the patty as is with the slaw – delicious. Or you can make a chicken burger out of it, using a sesame seed bun and a nice dollop of Sriracha mayonnaise. Grilled onions would go nicely on the burger too!
Delicious any way you serve them!