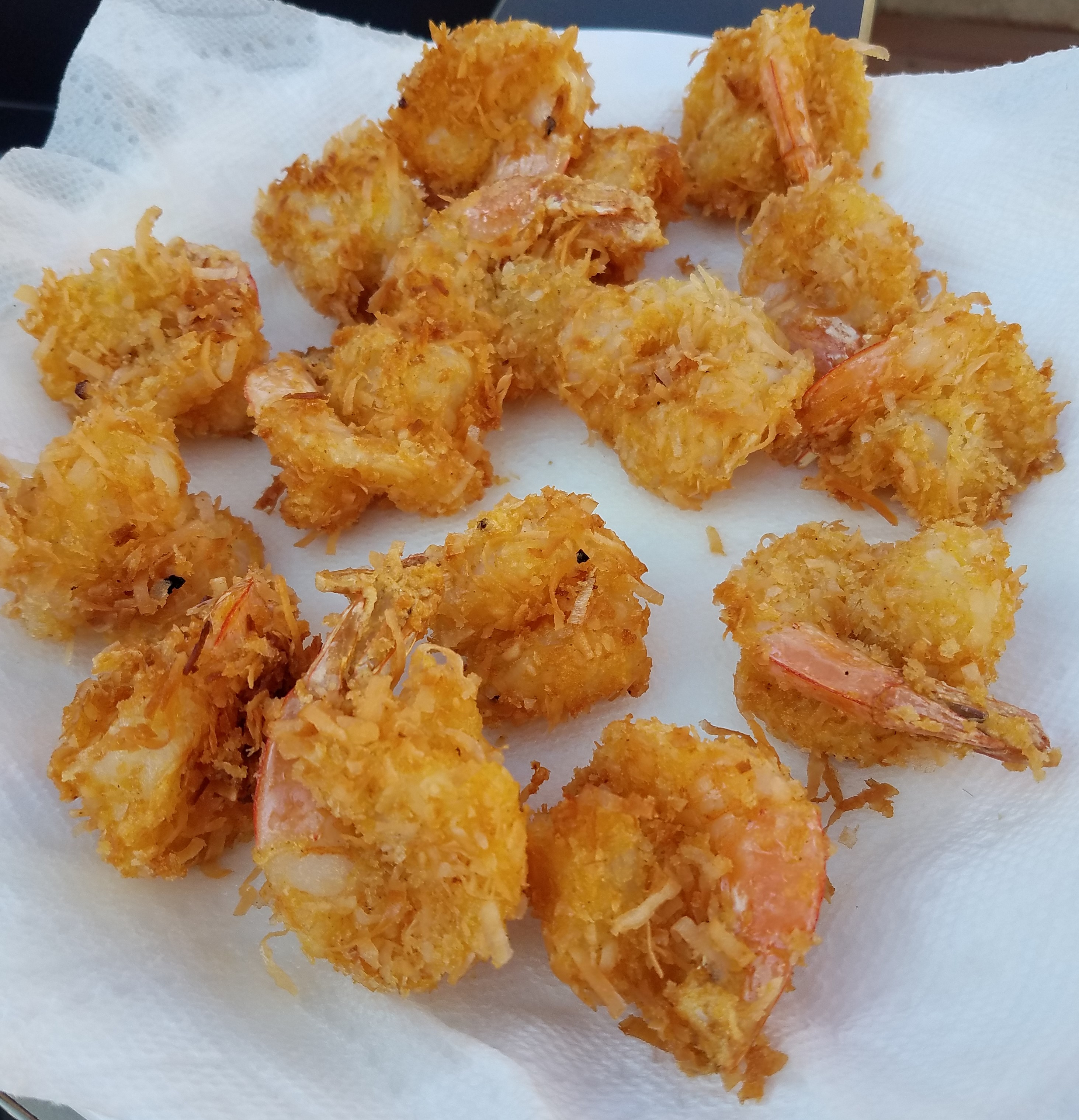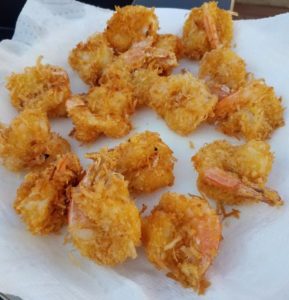 Coconut Shrimp with Spicy Citrus Sauce
Serves 4 as a main course or 8 as an appetizer
What you'll need:
2 pounds jumbo shrimp, (16-20 per pound) peeled, de-veined and butterflied
1 cup all-purpose flour
½ cup cornstarch
2 teaspoons paprika
1 teaspoon salt
2 eggs at room temperature, beaten with 1 ounce water
1 (7 oz.) package panko crumbs
Equal amount sweetened flake coconut to panko breadcrumbs
2 cups vegetable oil such as peanut (preferred) or canola
Spicy Citrus Dipping Sauce
1 (8 ounce) jar orange marmalade
2 Tablespoons horseradish, or to taste
3 Tablespoons lemon juice
2 Tablespoons whole grain Dijon mustard
½ teaspoon grated lemon rind
Hot pepper flakes to taste (optional)
Steps:
Make your dipping sauce by combining the citrus sauce ingredients together.  You can hand mix or use a blender. Mix well and adjust to your own personal taste. Set aside.
Thaw the shrimp if frozen. Butterfly and pat dry. Set aside on paper towels.
You will need 3 shallow bowls. In the first bowl, mix together the flour, cornstarch, paprika and salt.
In the second bowl, beat eggs with water.
In the third bowl, mix panko and coconut together in equal amounts, like 1 cup to 1 cup. You will likely need to mix more as you progress through all the shrimp.
Start the coating process by dredging the shrimp with the flour-cornstarch mixture and shake off excess; then into the egg and water, then into the panko-coconut mixture, being certain to fill all the nooks and crannies with the coconut and panko. Place completed shrimp on a large platter or cookie sheet. This can be done up to two hours in advance and refrigerated until ready to fry.
Heat oil in a deep fryer or wok to 350 degrees.
When oil is hot, fry shrimp without crowding pan until golden brown, about 3 minutes. Drain on paper towels.
Note: 
You can keep shrimp warm for up to 1 hour on a cookie sheet in a 200 degree oven.
Great served with plain rice with chives or coconut rice.
Also try some spicy edamame which is easy to prepare by using frozen, defrosted edamame in the shell.
Directions: Using a small wok of frying pan, add 2 cloves sliced garlic to 1 teaspoon olive oil and fry garlic until golden. Add edamame (dried with paper towels) and toss in 2 teaspoons (or to taste) hot chili flakes. Toss around until soy beans are warm. Add 2 to 3 Tablespoons Tamari or light soy sauce and turn heat to medium high. Toss edamame in mixture until coated and thickened. Delicious! Just like the sushi restaurant!!