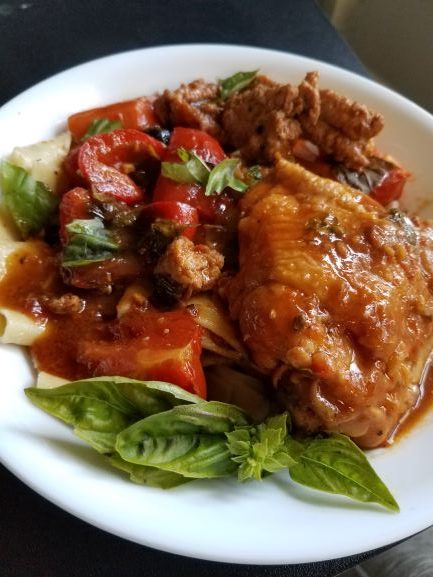 Dee's Chicken Cacciatore
Serves 4
All over Italy, you will find variations on this delightful chicken dish, a rustic hunter's vegetable and chicken stew. If you take the time and follow the steps, you will create a fabulous dish that will make you proud and satisfy the pickiest tastes. Yep, lots of steps, but worth it!
My recipe has evolved over time and to suit my palate with the addition of Italian sausage, fennel and black olives. Don't hesitate to add your personal touch as well.
What you'll need:
3 pounds chicken thighs and legs, bone in and skin on
1 sweet and 1 hot Italian sausage
1 large, sweet onion, such as Vidalia
6 whole garlic cloves
1 sweet red bell pepper
1 stalk celery with leaves
2 sweet carrots, peeled
1 fennel bulb, sliced (optional)
½ cup flour for dredging
1 28 oz. can whole tomatoes with juice, San Marzano if possible
½ to ¾ cup chicken broth
1 chicken bouillon cube or 2 teaspoons quality concentrated chicken stock
½ cup good quality white wine such as Pinot Grigio
½ cup fresh basil leaves, julienne plus more for garnish
1/3 cup Mediterranean olives
2 teaspoons salt for seasoning chicken
Freshly ground black pepper for seasoning chicken
Additional salt and pepper to taste
Olive oil for sautéing
Steps:
Thoroughly dry chicken with paper towels. Sprinkle salt and pepper on both sides of chicken and dredge in flour. Set aside.
Remove the skin from the Italian sausages. Cut or break into 2 inch lengths. Set aside.
Chop onion, celery, carrots and bell pepper into 1-2 inch pieces. Slice fennel bulb and garlic.
Heat olive oil until shimmering in a large Dutch oven or large heavy sauté pan.
Saute onions until golden. Add chopped garlic, then sausage. Cook until sausage is no longer pink.
Remove sausage and onion mixture from pan with a slotted spoon and add set aside in a medium sized bowl. You will be adding more to the bowl.
Blot out excess fat from pan with a paper towel. Leave as many brown bits in the pan as you can. This will add to the flavor. Add 1 Tablespoon olive oil to the pan and reheat. Add remaining veggies and cook over medium heat for 10 minutes. Remove veggies with slotted spoon and add cooked veggies to the bowl with the sausage and onions.
Add another 2 Tablespoons olive oil to the hot pan.
Add chicken pieces to pan skin-side down and cook over medium heat undisturbed for 5-6 minutes or until golden brown. Turn chicken over and cook for another 5 minutes on bone-side. Remove from pan, add to veggie bowl and keep warm.
Deglaze the hot pan with wine. When wine has reduced by ½, add 1 cup chicken stock or broth. Add bouillon cube or concentrate and stir to dissolve.
Add canned tomatoes and break up with a spoon. Stir to combine.
Add the partially cooked chicken to the sauce and pour veggies and black olives on top. Ladle some of the pan juices over the veggies. If you are using fresh tomatoes as well, add them now. Add ½ cup of julienne basil. Cover the pan with a secure lid, reduce heat to low and cook for 40-45 minutes.
When completed, plate chicken and veggies on platter.
Turn up heat and slow boil sauce until it begins to thicken. Pour over chicken and veggies and garnish with fresh basil.
Serve over  pasta or rice.