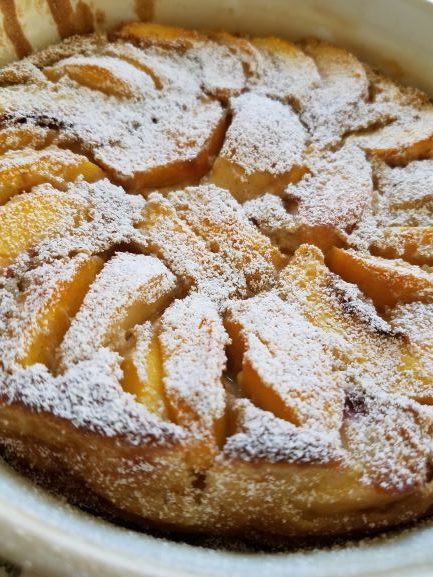 Clafouti is a French dessert made of fruit and a flan-like batter. It's kind of like a pudding-cake. It's not overly sweet, but very satisfying. Clafouti is traditionally made with black cherries but can be made with other fruits as well.  It can be made in a cast iron skillet or other oven-proof dish as well as individual ramekins. Try it this peach recipe from Julia Child. I could not improve it if I tried! It's easy and delicious.  Serve it warm with powdered sugar on top and maybe a little cream.
Peach Clafouti
What you'll need:
1/4 cups milk
2/3 cup granulated sugar, divided
3 eggs
1 Tablespoon vanilla
1/8 teaspoon salt
½ cup flour
3 ripe peaches
1/3 cup sugar
1 teaspoon ground cardamom
powdered sugar, for garnish
Steps:
Pre-heat oven to 350 degrees F.
In a blender blend the milk, 1/3 cup sugar, eggs, vanilla, cardamom, salt and flour. Pour a 1/4 inch layer of the batter in a buttered 7 or 8 cup lightly buttered fireproof baking dish. Place in the oven until a film of batter sets in the pan (about 2-3 minutes).
Remove from the heat and spread the peaches over the batter. Sprinkle on the remaining 1/3 cup of granulated sugar. Pour on the rest of the batter.
Bake at 350 degrees F for about 45 minutes to an hour. The clafouti is done when puffed and brown and and a knife plunged in the center comes out clean. Sprinkle with powdered sugar, serve warm.