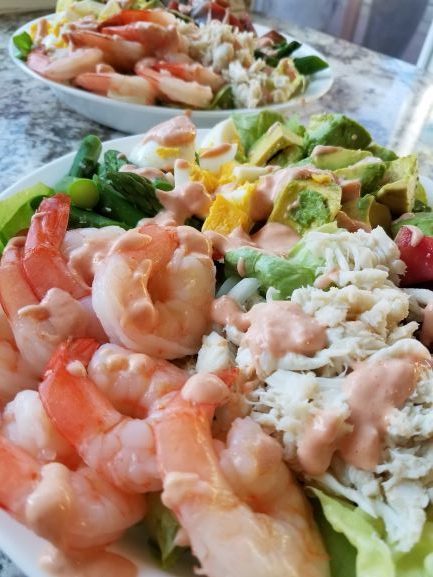 This is my take on a very old favorite. Louis was once the ultimate in fine cuisine. I decided to add my own twist to this ageless classic.
Dee's Seafood Louis
Serves 4
What you'll need:
For the dressing:
1/3 cup Best Foods or homemade mayonnaise
2/3 cup low fat sour cream
1/2 cup chili sauce
3 Tablespoons finely chopped green pepper
3 Tablespoons finely minced parsley
2 Tablespoons prepared horseradish or to taste
1 Tablespoon minced onion
1 Tablespoon minced green onion
pinch of salt or to taste
1/8 teaspoon (a shake) of Worcestershire sauce
1/8 to 1/4 teaspoon Cayenne pepper, or to taste
1 small serrano or Thai chili minced (if you like things spicy) optional
For the Salad:
6 cups or so torn or mixed baby lettuces such as mescaline
3 ripe avocados, cubed
½ pound sweet cherry tomatoes or other sweet tomato
½ sweet onion (Vidalia or Texas Sweet) sliced into crescents OR
3 green onions, sliced diagonally ½ inch long
4 hard-boiled eggs, peeled and cubed
1 Tablespoon fresh lemon juice
2 pounds jumbo shrimp
1 pound fresh crab meat (fresh crab is best, but the canned lump crab meat is also good), picked over, rinsed and patted dry
Sliced lemon for garnish
* Calamari, lobster or any available seafood is also excellent in this salad
Steps:
Make the dressing: Whisk all ingredients in a bowl until smooth.  Taste and adjust ingredients to your personal taste. Set in refrigerator for about 15 minutes to mingle flavors.
When ready to serve, arrange crisped lettuces on individual serving plates.
Squeeze lemon juice over avocados to help avoid oxidation.
Add all prepared salad ingredients, arranging in attractive groupings (see photo) over the chilled lettuce.
Drizzle completed salad with Louis dressing just before serving. Put the dressing on the table for guests to add more, if desired.