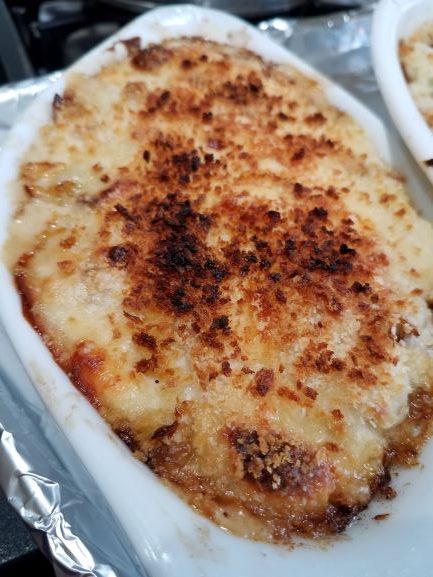 Everything sounds better in French!  For example the lowly cabbage is elevated to new heights solely by calling it "chou".  I was surprised to learn that there many variations of this dish. Unfortunately, most of them use heavy cream. I decided to make mine with a lighter béchamel (white sauce). This dish is full of flavor but not the kind of flavor that punches you in the palate! This is a creamy, gentle bite with a hint of crunch from the Panko and a lingering afterglow from the blend of cheeses. I hope you enjoy my variation of Gratin de Chou.
What you'll need:
1 large head fresh cabbage, sliced with core removed
½ large sweet onion, sliced
2 to 3 Tablespoons butter, approximate (sauté)
2 Tablespoons olive oil, approximate (sauté)
Salt and white pepper
For the Sauce
2 Tablespoons butter
¼ cup flour
2 cups milk
½ teaspoon garlic salt
1/8 teaspoon nutmeg
1/3 cup shredded Gruyere cheese
1/3 cup Swiss cheese
½ cup Parmesan cheese, finely grated
Added salt to taste if needed
¼ teaspoon White pepper
Topping
Sprinkle Parmesan cheese
Sprinkle Swiss/Gruyere cheeses
½ cup Panko
Steps:
Slice whole cabbage in half. Remove the core. Slice cabbage into ½ inch slices.
On a large, flat griddle or frying pan, melt 1 Tablespoon butter and a drizzle of olive oil. Lightly salt and pepper cabbage slices and place them onto the griddle. (I found using a flat griddle better for achieving a golden sauté). Continue to cook cabbage on medium heat until golden, then turn the cabbage to the other side to achieve the same effect on both sides. You will likely have 2 or more batches to sauté according to your pan size. Place cooked cabbage on a plate or platter as you complete all the cabbage.
Sauté onion slices in butter/olive oil until golden and limp.
While the cabbage is cooking, make your béchamel sauce. In a medium sauce pan, add 2 tablespoons butter. Melt slowly over low heat, taking care not to burn it. Once completely melted, add ¼ cup flour and, using a whisk, stir flour into butter until completely incorporated. Cook for at least 5 minutes on low heat. This will eliminate the "floury" taste in the completed sauce.
Slowly whisk in the milk until all 2 cups have been added. Turn up the heat slowly to low-medium. Stay with the sauce and continue to whisk slowly to prevent boiling. Add garlic salt and nutmeg. Cook for about 10 minutes or until thickened to a medium consistency.
Add cheeses a little at a time, blending after each addition with your whisk. When all the cheese is added, taste and adjust seasonings and cheese flavor. If you want more tang, add more Parmesan.
Use a gratin dish or casserole dish 2 to 3 inches tall. Butter or spray the dish.
Place one layer of cooked cabbage on the bottom of the gratin dish and top it with ½ of the cooked onions. Sprinkle with a little Parmesan and Gruyere/Swiss blend. Pour ½ of the Béchamel-cheese sauce over the cabbage and onion layer. Top with the remaining cabbage and onions and again sprinkle with the cheeses.
Pour or spoon the remaining béchamel sauce over the top of the mixture. Top with Panko.
Place in a 350 degree oven on the middle rack for 20 minutes. Turn the dish to ensure even browning. Bake for another 20 to 30 minutes until bubbly and hot throughout. If browning too quickly, turn your oven down to 325 degrees.