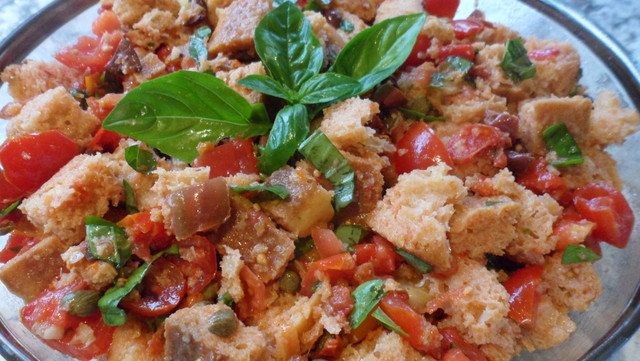 Panzanella is a surprisingly simple salad made from cubed bread, which can be fried, baked or simply torn up and mixed with tomatoes and basil, dressed with a red wine vinaigrette and served. You can add whatever you like to your salad, including red onion, cucumbers, capers, olives (as I have done), cheese or whatever strikes your fancy.  I have made it many different ways and am sharing with you the very best version for my personal taste.  Enjoy!
Panzanella
Italian Bread Salad for 6
What You'll Need:
6 cups cubed Ciabatta bread or Pan Rustique (firm bread)
1 cup or more olive oil for frying croutons
½ cup freshly grated Parmesan cheese plus more for garnish
6 large very ripe tomatoes (2 to 3 pounds)
½ cup fresh basil, torn or sliced, plus whole sprigs for garnish
1/3 cup Mediterranean, "oven roasted" black olives or Kalamata olives
Fresh soft mozzarella, cubed
Dressing ingredients:
½ cup good quality extra-virgin olive oil plus more for drizzling
¼ cup red wine vinegar or to taste
3 to 4 garlic cloves or more to taste, minced or pressed in a garlic press
3 flat anchovies, finely minced or pressed into a paste
2 teaspoons sea salt, plus or more to taste
Coarsely ground black pepper to taste
Chef's note: Use a firm, dense bread such as Ciabatta or Pan Rustique. If you use a less dense bread, you will end up with a mushy salad. I have tried roasting cubed bread drizzled with olive oil in a 350 degree oven for 10 minutes or until golden, but I much prefer the frying method outlined in my recipe. It makes for an incredible crunch that will stand up to the vinegar in the dressing and the acid in the tomatoes.
Steps:
Cut firm, dense bread into 1 inch cubes. Fry in batches in olive oil over medium heat until they are golden. After each batch is cooked, spread croutons on a flat surface such as a cookie sheet. Sprinkle each batch with Parmesan and toss to combine Set aside if using right away, as you prepare the veggies. Allow to cool completely before assembling salad.  NOTE: If making for later use, store the cooked croutons in an air tight container for up to 3 days. I used a vacuum shrink wrap which worked perfectly.
Cut the tomatoes into bite-sized chunks and place into a large salad bowl. Tear fresh basil leaves into pieces and add to bowl.  Add olives.
In a shaker jar or with a whisk and bowl, add dressing ingredients and shake or whisk to combine.
Add toasted Parmesan bread cubes to veggies and toss to combine. Pour mixed dressing over salad and toss until all ingredients are lightly coated with dressing. If serving immediately, add mozzarella and toss.
Garnish with sprigs of fresh basil. If you like, sprinkle a little more dressing and  Parmesan cheese lightly over salad along with a grind of pepper. Have some extra virgin olive oil available to drizzle over individual portions, if desired.