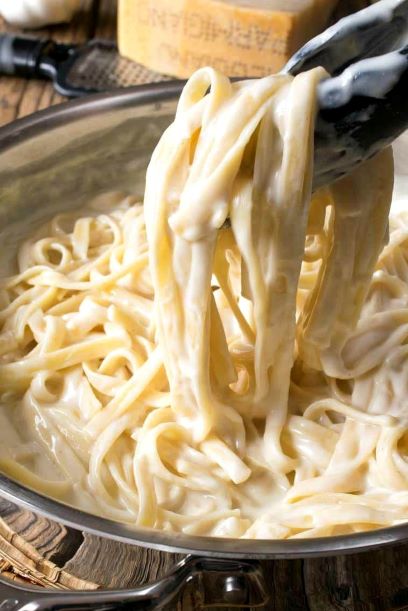 Pasta Alfredo Romano
Fettuccini Alfredo is something most of us have heard of or eaten. When served in most restaurants, it is a heavily-cheesed, cream-laden pasta, which is actually a bastardization of the original dish. This recipe is simple and delicious and will show you how to make pasta (any type you like, but normally made with fettuccini, pappardelle or spaghetti) without heavy cream. Butter, yes! Cream, no. Dried pasta works very well for this dish as fresh pastas tends to break down more easily during the finishing process.
What you'll need:
12 oz. dried pasta, preferably fettuccini or pappardelle
1 to 2 cups pasta water
1 stick (or up to 1½) butter, cut into cubes
3 cups freshly grated Parmesan cheese *aged 18 months or less for sweeter flavor
Salt to taste
Freshly grated black pepper
Steps:
In a 6 quart pot, bring salted water to a rolling boil. Add pasta of choice and cook, stirring occasionally, until it is al dente, which means that there is a slight "chew" to the pasta when tasted.  The pasta will continue to cook during the finishing process.
Scoop out 1 cup pasta water, then drain the pasta. Keep it in the cooking pot.
Transfer 1 cup cooking liquid to a large skillet. Bring it to a gentle simmer and add butter, one cube at a time, whisking after each addition.
Once all the butter is incorporated, gradually add cheese in handfuls, making sure it is completely melted and incorporated before adding more.
Add pasta and toss to coat, adding more pasta cooking water as needed. Sauce will luxuriously coat the noodles.
Serve with additional grated cheese and freshly ground pepper.