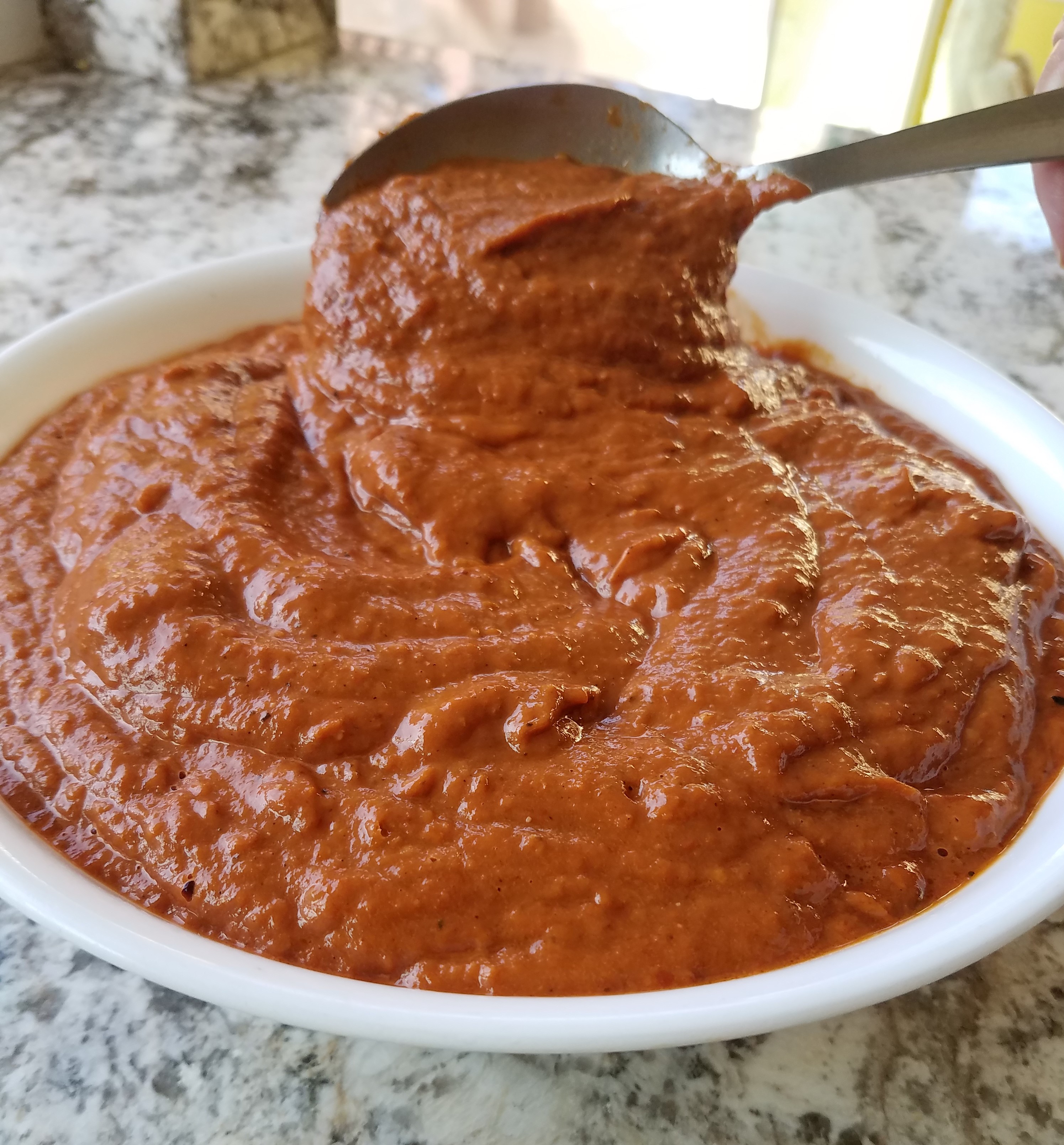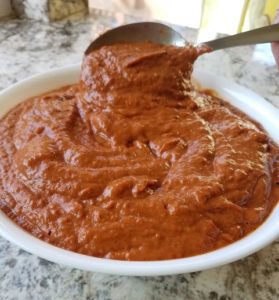 Dee's Roasted Tomato Sauce Base 
This is a rich and delicious base for many types of pasta sauce or is perfect just as it is over chicken or meat dishes. It can be used to make Chicken Cacciatore, Bolognaise, Ossobuco or wherever you want a tomato-y burst of flavor!  It makes a velvety base for tomato soup or can be used in any recipe that calls for tomato puree or tomato paste. Use your imagination!
This sauce base can be jarred for storage or frozen in airtight bags.
What You'll Need:
Vine ripened tomatoes, about 6 pounds cut into quarters
12 to 20 garlic cloves (to taste)
2 large sweet onions, cut into 2 inch chunks
1 Tablespoon dried basil leaves
1 teaspoon dried oregano leaves
1/3 to ½ cup extra Virgin olive oil
Lots of coarsely ground black pepper
1 cup or more water for thinning the mixture while blending
You may want to add salt to the completed mixture
Please note that this is not a precise recipe. I have made this to my personal taste, so you may want to use more or less garlic, herbs or onion. Ripe tomatoes will give you a richer taste and less ripe ones will be watery. Olive oil is a must and you will need the amount specified. You can use a Vitamix blender, a regular blender or a hand blender to achieve a velvety result. I have used each, but prefer the Vitamix for the creamy texture. You can also use a hand crank food mill if you prefer to remove the skins after roasting. Skinning the tomato is a matter of preference and I prefer to leave the skin on for texture and flavor. Experiment!
Steps:
Preheat oven to 350 degrees.
Wash tomatoes and cut them into quarters. Spread them on a sheet pan (16×20 or 12×14, see below).
Peel and cut onions into 2 inch chunks and scatter in with tomatoes.
Add lots of whole fresh garlic cloves into the mix.  I add 12 garlic cloves to a sheet pan of tomatoes.
Scatter them in a parchment or foil-lined 16X20 inch sheet pan in one layer. If you have a smaller oven, use a 12X14 sheet pan and make 2 batches.
Sprinkle mixture with dried basil and oregano. The intensity of the dried herb is better for the roasting method. Mix together with your hands and smooth everything into one layer.
Drizzle the whole thing generously with extra virgin olive oil and grind lots of fresh black pepper over the top.  You will want to hold off on adding salt because as the tomatoes roast, their flavor intensifies. You can add salt at the end of the blending process.
Bake for 2 to 2½ hours at 350 or until the tomato juices begin to evaporate and caramelize. You want the juices at the edges of the pan to form a deep golden color.
Remove pan from the oven and pour 8 ounces of water over the tomatoes while they are still hot. This will deglaze all those wonderful flavors. If you need more water, go ahead and add it now, but not too much. Let it set for a little while to cool and then begin scraping and gathering up the tomato mixture and deglazed liquid to add it to the blender jar or high sided bowl.
If you are using a blender or Vitamix, blend until desired consistency is achieved.  If too thick, add a little water.
If you have a hand blender, put the mixture into a bowl with high sides and puree until smooth or to desired consistency.