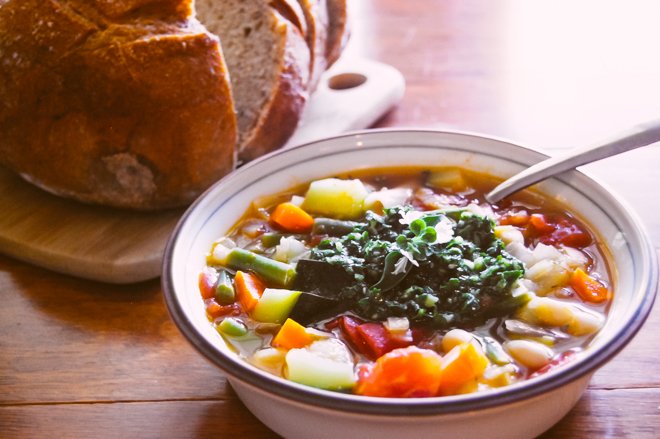 Soupe Au Pistou   (French Vegetable-Leek Soup)
What you'll need:
For the soup
1 leek, washed carefully and diced
1 onion, peeled and cut into 1 inch pieces
2 stalks celery, sliced
2 cups uncooked fresh green beans
2 cups large-diced potatoes
2 cups sliced carrots
2 cups seeded, diced fresh tomatoes
2 1/2 qts. boiling water
1 Tablespoon salt (or to taste–I like lots)
2 zucchini, 1 inch slices
2 yellow squash, 1 inch slices
2 cans Cannellini beans, drained and rinsed
Freshly ground pepper
For the tomato-basil pesto
4 large cloves of garlic, chopped
½ cup packed fresh basil leaves
½ cup freshly grated Parmesan cheese plus more for sprinkling
¼ cup tomato paste or Dee's roasted tomato base
1/2 cup olive oil
Salt
Steps:
In a deep soup kettle, cook leek, onion, celery, green beans, potatoes, carrots, and tomatoes in boiling, salted water until tender but still shapely and colorful, about 30 minutes or so. Add zucchini, yellow squash and Cannellini beans during the last 10 minutes. Season with salt and pepper to taste.
Meanwhile, prepare the tomato-garlic pesto:
If you have a food processor, put garlic, basil, few grains of salt, tomato paste, cheese and olive oil in and blend to a paste.
If you don't have a processor, with a wooden spoon or mortar and pestle, crush garlic, basil and a few grains of salt to a paste. Gradually work in tomato paste, cheese and olive oil.
Add a few spoonsful of soup broth to the pesto to temper and thin it a bit. Blend well to combine the flavors.
Once the pesto is tempered, add to the soup and gently stir into soup.
Serve topped with additional grated cheese and freshly ground pepper to your taste.
This is a hearty and heart-warming vegetarian soup, great for winter fare.