Serve this unique appetizer to your holiday guests!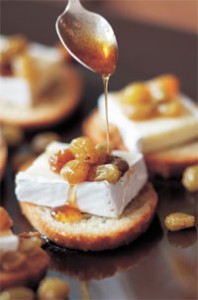 Brie Toast with Chardonnay Plumped Raisins
Makes 24 Appetizer Toasts
What you'll need:
1 ½ cups water
1 cup Chardonnay or other good quality white wine
¼ cup plus 2 Tablespoons sugar
1 Vanilla bean, split in half vertically
1 cup golden raisins
12 ounces double-crème brie, sliced into 24 pieces
24 slices baguette, cut ¼ inch thick
4 Tablespoons unsalted butter, melted
Steps:
Combine water, wine and sugar in a medium sized saucepan. Bring to a simmer over medium high heat until the sugar is dissolved. Reduce heat to medium and simmer for 5 minutes.

Turn off heat. Scrape the insides of  the vanilla bean into the liquid and add the remaining bean.

Add raisins. Let steep uncovered for at least 1 hour at room temperature. Refrigerate overnight

Drain the raisins and reserve the liquid. Discard vanilla bean

Put the liquid back into a saucepan and bring to a boil. Reduce to about 1/3 cup or until the syrup turns a deep golden color, 10 to 15 minutes. Watch carefully so the syrup doesn't burn. If it foams, remove from the heat immediately. The syrup will continue to thicken as it cools and have a texture similar to maple syrup. Cool completely

Preheat the oven to 400. Brush both sides of the sliced bread with a little melted butter. Bake for 8 to 10 minutes. Let cool completely.

To assemble, place a slice of cheese on each toast. Sprinkle with a few raisins and drizzle syrup over the top.
If you have any raisins and syrup left, combine them and refrigerate in an airtight container. They will keep for 2 weeks.