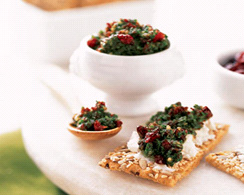 Cranberry Pesto Crostini with Chevre'
Makes about 24 appetizers
This takes only about 20 minutes to prepare!
What you'll need:
½ cup Chevre' (French for goat cheese) at room temperature, 4 oz.
¼ cup cream cheese at room temperature, 4 oz. (You can use Neufchatel)
¾ teaspoon coarse kosher salt, divided
1 large clove garlic, peeled
1 cup sweetened dried cranberries
1 ¼ cup fresh basil leaves
¼ cup toasted walnuts
¼ teaspoon red pepper flakes
½ cup Parmesan cheese, preferably freshly grated
¼ cup coarsely chopped Italian flat leaf parsley
¼ cup best-quality extra-virgin olive oil
Freshly cracked pepper, to taste
Baguette slices, about 24, toasted
Steps:
Mix the cheeses together in a small bowl. Stir in ¼ teaspoon salt. Set aside.
Make the pesto: Pulse the garlic in food processor until finely chopped. Add cranberries and pulse until roughly chopped. Add basil, walnuts, and red pepper flakes, process until blended but still chunky.
Place mixture in a bowl, stir in the Parmesan cheese, parsley, oil, pepper and the remaining ½  teaspoon salt until blended.
Spread 1 teaspoon cheese mixture on each baguette slice and top with 1 tablespoon of the cranberry pesto.